including 2,165 in the Loyalty Society,
and more than 200 in the 1887 Society and St. Thomas Aquinas Society
raised in FY2021
exceeding our goal by 41%
raised for scholarships and student aid,
with 647 students receiving emergency pandemic relief
The University's community prevailed during a year of global hardship
Dear Catholic University Family,
During a year when we all experienced uncertainty, when many in our community struggled, you continued to give. Thank you for your generosity.
Due to the pandemic, we set a fundraising goal of $50 million for FY21, well below what we have come to expect. We are happy to announce that we surpassed our goal by more than $20 million. Our donors made gifts of more than $70.2 million. Bill and Joanne Conway were integral to meeting this goal, giving an additional $20 million to fund scholarships that will benefit 160 nursing students over the course of the next five years.
But it was gifts of all sizes that made this year a success. Our donors gave more than $8 million toward the areas of greatest need; nearly $5 million in gifts went toward unrestricted support of The Fund for Catholic University, the Crisis Response Fund, and the various school annual funds. We raised nearly $350,000 – including gifts from many members of the Class of 2021 – to help kickstart the renovation of Caldwell Chapel.
We are also closing in on our goal for Light the Way: The Campaign for Catholic University. We have only a little more than $20 million to go to reach the $400 million finish line.
Thanks to your help, we are preparing to welcome our students back to campus for in-person classes this fall. We could not have done it without you. Thank you.
Sincerely,
John Garvey, President
Catholic University has a long history of excellence. During the pandemic, its pedigree of resilience, service, and compassion have proven invaluable.
At the height of the crisis, our donors were the heroes rushing to help

975 donors raised nearly $2M
for the Crisis Response Fund
providing critical support during a time of unparalleled need
"This scholarship has changed everything for me — I can continue my journey as the first in my family to attend college. My parents have taught me the value of education, and it is important to me. I lost my dad due to the current pandemic, and I know he would want me to push myself and continue to study to achieve my goals. I hope to give back to the University someday and help future students reach their education goals with a scholarship."

—Melanie H., Class of 2024
In April 2020, the University launched the Crisis Response Fund in response to the COVID-19 pandemic, the increased need of our students, and the generosity of our community. Through this effort, 647 students received emergency aid relief and tuition assistance totaling more than $730K, and the University was provided with the resources to modify classrooms and facilities to safely re-open campus. Catholic University was proud to be the only University in the region to offer in-person classes to first-year students in fall 2020 and to all students in spring 2021.
Unrestricted support helped the University be agile in the midst of uncertainty

$4,756,401 total
in unrestricted support
including $1.8M to The Fund for Catholic University and $2.9M to school and program-based annual funds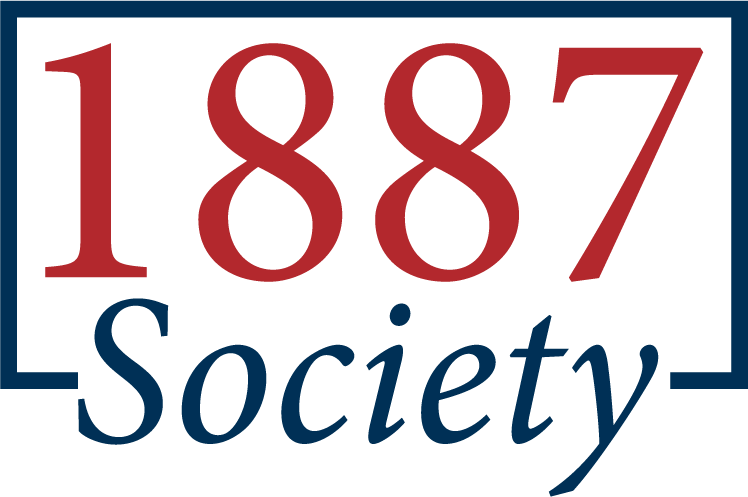 We are especially grateful for our 1887 Society members. This group of 226 individuals are annual giving leaders and leaders across campus. During the past year, they contributed more than $2.1M of unrestricted funding. Their generosity sets a bold example for others and truly helps the University to light the way.
Our community spoke boldly: CatholicU deserves unprecedented support
In 2020, we canceled the Founders Day Giving Challenge — the University's largest day of giving — to give our community the space to heal and reflect and make sense of the unfolding pandemic. Several months later, our community was ready: They broke records with all three giving challenges in FY21. The message was clear: Catholic University students, faculty, and staff deserve unprecedented support.
With gifts large and small, donors make a CatholicU education accessible to all

$31.5 million
in scholarship support
because our community prioritizes a Catholic University education even during times of economic uncertainty
 
The National Catholic School of Social Service received a five-year, $3.2M grant
from the U.S. Health Resources and Services Administration's Scholarships for Disadvantaged Students Program.
 
The Class of 2020 Impact Scholarship
was awarded to Michael Graves, Class of 2024. Before they graduating, members of the Class of 2020 fully funded the first-ever senior class scholarship with help from the Alumni Association Board of Directors and others.
Alumni and their families fund endowed scholarships to support new generations of students.
We are fortunate that alumni and their families believe in the mission of Catholic University and the potential of Catholic University students. By establishing endowment funds, they allow the University to grant scholarships to deserving students in perpetuity.
Bill and Joanne Conway pledged an additional $20M to nursing students
Bill and Joanne Conway committed an additional $20 million in scholarship support that will benefit 160 Catholic University nursing students over the next five years. With this most recent gift, Bill and Joanne's transformational support of the Conway School of Nursing has reached a total of $80 million since 2013.
"It's hard to come up with the words to describe the impact that this gift has had on my life. I'm so grateful."

Graceann Kraemer, B.S.N. 2017, a former Conway Scholar who now works in the neuroscience/neurosurgery unit at Children's National Health System in D.C.
Donors showed faith in CatholicU faculty, researchers, and programs
"We're living through the biggest crisis in higher education in 100 years. I'm trying to support the faculty any way I can. They've really been working hard this year through challenges I've certainly never experienced in 30 years around higher education. [...] Yet there have been no complaints, and the faculty continue to be amazingly productive scholars, too."

— Thomas Smith, dean of the School of Arts and Sciences
Investments in faculty and programs elevated the University's academic enterprise
Faculty members and the programs they lead are the backbone of the University. By supporting the intellectual pursuits of faculty, donors lifted up the entire University.
The Columbus School of Law received a transformative gift of $4.25M 
The Columbus School of Law received a $4.25 million gift to establish The Project for Constitutional Originalism and the Catholic Intellectual Tradition. This generous gift will allow the University to hire a number of faculty and staff members to support the project, as well as to support the related research of existing faculty members and activities such as conferences, debates, fellowship opportunities, and student programming. It will also fund the renovation of 3,000 square feet on the law school's first level, transforming the space into offices and conference rooms for the school's centers and institutes.
Donors believe in a well-rounded CatholicU education, on campus and afar

2 new locations
to deliver a Catholic University education
to students in Tucson, Ariz., and Alexandria, Va.
"In this era, online education is hugely important, but we believe at Catholic University that there's always going to be an important part to play in meeting students face-to-face."

—Vincent Kiernan, dean of the Metropolitan School of Professional Studies
For years, the University has invested in innovative hybrid and online educational models, thanks to generous donors. In FY21, several of these initiatives were manifested, allowing the University to respond effectively to the demands of the pandemic and make a Catholic University education accessible to a wider audience.
With competition largely postponed, Athletics received major boosts from donors
In 2020, athletics competitions were canceled or postponed, but our Athletics program excelled thanks to the support from alumni, family, and friends. Our football, lacrosse, and women's basketball programs received incredible gifts.
Online, our community learned, networked, and had fun

35 virtual events
helped our community stay connected
during a year when most people were physically isolated
"We never expected to attend our 30-year reunion virtually, but we are glad we did! The programs were both fun and informative, with ample opportunity to connect with our classmates."

—Susan, B.A. 1990, M.A. 1992, and Brian, B.S. 1990, B.Arch. 1991, Smiley
New virtual events with real impact
We introduced new, innovative ways to foster our community, connecting with more than 3,200 registered guests in real time and offering countless others the chance to enjoy recorded programs on their own time.
In person, the University made a bold statement nationally

6 tour stops
for the sculpture "Angels Unawares"
starting on campus in Washington, D.C., and continuing to Boston, New York, Atlanta, Miami, and New Orleans. More tour stops are planned for FY22 before the piece returns to its permanent home on campus.
"Opening ourselves to others does not lead to impoverishment, but rather enrichment, because it enables us to be more human: to recognize ourselves as participants in a greater collectivity and to understand our lives as a gift for others: to see as the goal, not our own interests, but rather the good of humanity."

—Brayan Hernandez, Class of 2022, Catholic University
"Angels Unawares" is intricately sculpted and cast in 3.5 tons of bronze by Canadian artist Timothy Schmalz. An anonymous patron and Schmalz gifted the piece — based on Hebrews 13:2: "Be welcoming to strangers, many have entertained angels unawares." — to Catholic University.
On campus, the Campaign continues to fuel capital improvements
Pardon the construction! The University community eagerly awaits the completion of these capital projects that have been funded by Light the Way: The Campaign for Catholic University.
Thank you for giving the University the resources it needs to be successful

Gratitude
emanates throughout the University
because you have decided that Catholic University should thrive and the priorities of this Campaign must be met
"This is a huge milestone for the University and will benefit thousands of students and faculty, ensuring that the unique value of a Catholic University education is available in the century ahead."

—Joseph L. Carlini, B.M.E. 1984, P '21, chairman of the Board of Trustees and Campaign co-chair
Little was normal about FY21, but Catholic University found solace in you. You provided the resources to help the University maintain its standards. You proved that we can accomplish anything together. With donations large and small, you guided the University through concurrent crises. Together, we can light the way. Thank you.
Join the Campaign and help to light the way
This Campaign will succeed because people like you believe in Catholic University and choose to support its mission.
Join us as we move toward a bright new age for Catholic University — one of even greater promise, intellectual excitement, and faithful service.
Published on: Tuesday, May 18, 2021
Campaign Theme: Faculty Excellence
Tags: Report to Donors, Campaign Updates, Light the Way Crisis Response Fund, Light It Blue