On Monday, President Peter Kilpatrick announced that the University had bested its half-billion dollar fundraising goal for Light the Way: The Campaign for Catholic University.

A group of Catholic University students revealed the grand total –  $518,544,740 – during Lux, a special dinner held in the Edward J. Pryzbyla University Center celebrating the end of the Campaign. More than 300 donors and University friends attended.
"This Campaign entailed a huge effort by our entire community. But tonight isn't just about dollars and cents. Raising money was the goal, yes, but it wasn't the objective," Kilpatrick said. "Our Campaign was about people and promise. About changing lives through education and opportunity. This evening's program revealed the scope of the success you made possible." Over the Campaign's eight years, 28,654 donors contributed to its success.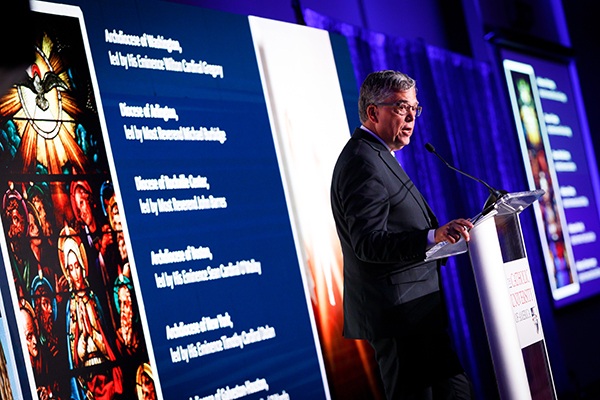 Organized around three areas – Student Success, Academic Environment, and Faculty Excellence, the Campaign added 17 new endowed professorships to the University, generated $30 million dollars in support of graduate scholarships and stipends, and raised $83 million funding for research. It added $100 million to the University's endowment, and has helped diversify and expand the University's student body through the addition of hundreds of undergraduate scholarships.


On campus, gifts made during the Campaign enabled the renovation of Maloney Hall into the Busch School of Business and the construction of Garvey Hall and the new nursing and sciences building for the Conway School of Nursing. It added new athletic facilities, like Carlini Field, and added lights to the University's baseball stadium, enabling night games. Locally, Catholic University added a campus in Alexandria, VA, and nationally, another in Tucson, AZ.


A special surprise for guests was a message from the Holy Father, Pope Francis. His Eminence, Archbishop Christoph Pierre, apostolic nuncio, read a letter from the Pope congratulating the University on a successful Campaign.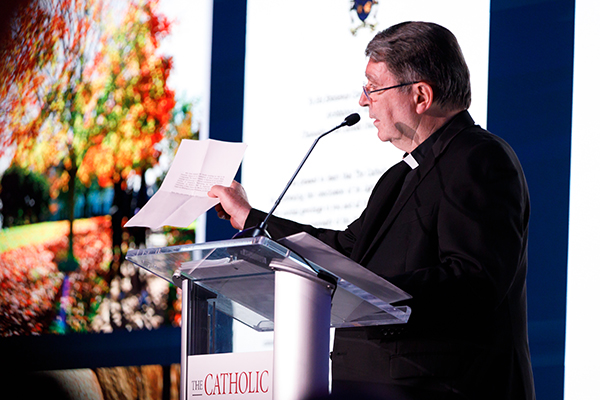 "Mindful of the generosity of the donors and the dedicated efforts of all involved in the Campaign, I am confident that it will serve to meet the current needs of the University and extend the mission, entrusted to it by my predecessor Pope Leo XIII in 1887, of educating minds and hearts in the spirit of the Gospel and in service to the Church, the nation, and the world."
Pope Francis visited Catholic University's campus in 2015 when he celebrated the canonization Mass for St. Junipero Serra, and in his letter he recalled that visit fondly before bestowing a blessing and "entrusting the entire University community, its benefactors, and its supporters to the loving intercession of Mary Immaculate, Mother of the Church."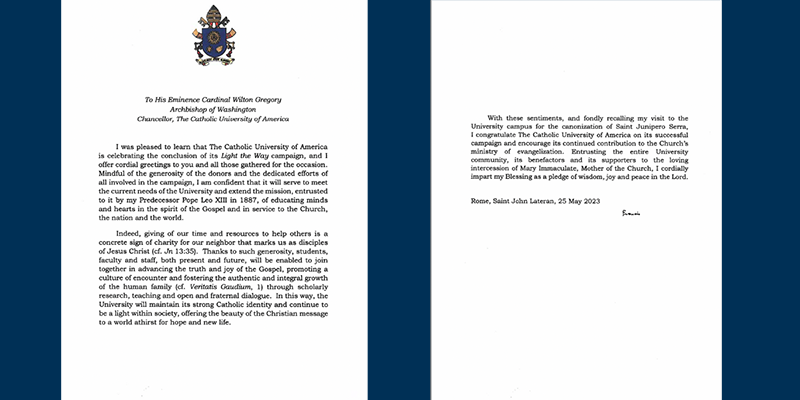 The Campaign's original goal was to raise $400 million, but when donors helped achieve that goal early, the Campaign was extended another year and the goal raised to $500 million. Each of the University's 12 schools, as well as the Department of Athletics, have been impacted by the Campaign.


Joe Carlini, B.M.E. 1984, former chair of the Board of Trustees and Campaign co-chair along with Dr. Enrique Segura said, "The University has been my home for 50 years," and the Campaign "has transformed my home."
Published on: Tuesday, June 6, 2023
Tags: Campaign Updates