The Metropolitan School of Professional Studies recently received its largest gift to date from the Sheehy family. 
In total, the gift amounts to $3.65 million that will help adult learners achieve their educational goals through the endowment of The Sheehy Family Scholarship, which will provide support for students attending the Metro School. 
This latest gift was made by the Sheehys in honor of their parents, Vincent A. Sheehy III, B.A. 1951, and his wife, Helen, who passed away not long ago. It is the first endowed scholarship for the Metro School. 
Catholic University has been an important part of the Sheehy family for generations. In addition to Vincent III, who served on the University's Board of Trustees, his father Vincent Sheehy Jr., J.D. 1933, and his brother, Richard, B.Arch. 1955, were also alumni.
"Clearly my father had a tremendous experience at Catholic, and has a strong belief in the ability of Catholic institutions to do really good work. I just think he always enjoyed the engagement at Catholic University," said Vincent Sheehy IV.
"And, of course, through the whole Catholic experience, my father met my mother, which was the most important relationship of his life."
One story he shared was about how his uncle's architecture degree was put to use, although possibly not in the way originally intended.
"In my understanding, a year or two after graduating, he was on assignment with the architectural firm he was working with, and he went into a client meeting. The client was complaining about the drawings, and he wanted my uncle to change things up in a way my uncle didn't totally agree with, so he walked out of the meeting, threw the drawings in the trash can, and became an artist for the next 50 years," Sheehy recalled with a laugh. "So you can imagine how important architecture school was, as a foundation for his life as an artist. We've all been blessed, we've all got paintings from our uncle throughout our homes." 
Through their philanthropy, the Sheehy family has long enabled the University to offer scholarships to nontraditional students and help them complete an undergraduate degree.
"My parents have been heavily involved with the Metropolitan School since the early 1990s," explained Sheehy. "Our mom passed away about a year ago and, subsequent to that, we just decided to make a few gifts in honor of them with a fund they were kind enough to leave to us. We just looked at what were their most important causes, and certainly the Metropolitan School is right there."
The gift to create the endowed scholarship in the Metro School is one of several educational gifts, including two that benefit high schools, that the Sheehy family has made in honor of their parents. Sheehy said the Metro School was much beloved by his father especially, who had a great respect for the program and loved attending Metro School graduations.
"We have stories about him attending the Metro School graduation instead of a grandchild's graduation. He just thoroughly enjoyed it," Sheehy said. "He thought the program was doing a lot of good for people in D.C. who were in need, and we wanted to honor his commitment to the school by providing an endowed gift that would be there, hopefully, in perpetuity."
The Sheehy family's focus has long been on supporting educational needs and doing what they can to level the playing field for those who struggle to find the resources to attend college. Sheehy said their goal is to see the Metro School prosper and continue to grow so it can help more people.
"We had a wonderful tour of the Alexandria campus a few months ago, so I was encouraged to see the orientation toward growth, and while we don't have a lot of stipulations about the gift, that certainly is our desire: that more people can be helped by a gift that we're fortunate to be able to give," he said. "We hope it can be put to really good use for deserving individuals who would really be struggling to make ends meet otherwise."
Sheehy said his family is loath to characterize what the Metro School does as "adult education," but rather education for those who haven't been as fortunate to be born into the same set of circumstances as others. It's the kind of giving Sheehy characterized as "foundational to changing the world a bit."
"It gives individuals the resources to go on and do whatever they want to do with their lives. It's been a running theme in the family, probably for 40 years. We want to honor and acknowledge the tremendous commitment  — and it goes beyond the dollars, although the dollars are big, but the commitment is in both the money and time — and passion, which is why my father would show up for graduations, and why my sister and I  would show up for the last several years of graduations."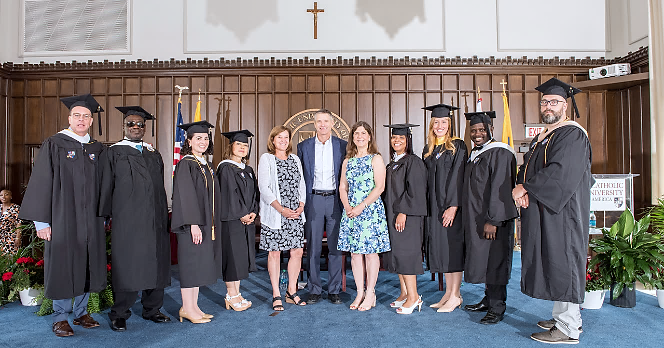 The family often receives heartwarming and moving thank-you letters from Sheehy Scholars. And during Metro School graduation ceremonies, graduates share their stories with those in attendance, which Sheehy — who served as commencement speaker during a virtual pandemic ceremony — called the highlight of the event.
"It's not a typical graduation, where you're walking across a stage, you get your diploma, and you move on. You hear the vignette of this person's story, and how they got to this point. Whether the individual is 25 and had to get through some really tough times early in life, or a grandmother who's gone back to get her diploma with her extended family of 20 grandkids cheering her on, it's a graduation unlike any other," Sheehy said. "It just makes us so happy to help that person take another step toward achieving their dreams. It's just a great reminder of what people go through in life and the resilience that so many people have.
"The fact that they don't take any part of that education for granted is really just a reminder to me and our family of the importance of education. They can teach us a lot about the importance of not taking that for granted."
Ultimately, Sheehy hopes his family is remembered for helping create a more just society.
"Legacy is the opposite of what we're trying to do. My father worked hard, but was a very humble man, and recognized that we're all making our way through this world. Some of us have it easier than others," Sheehy said. "He was going to do what he could to make it a little easier for somebody else, and we're going to follow in those footsteps.
"To us five children, we're just incredibly grateful for what our parents have given us. And to be aligned as a group of children, being able to pass the treasure along in this way, to Catholic University and a couple of other educational institutions, it's a nice way for us as a family to remember our parents, and recognize and do some good with those memories as we continue to celebrate their wonderful lives."