We thank the ten reunion classes of 2019 for giving back to Catholic University. All combined, the reunion classes raised nearly $2 million for the University, providing generous support for schools, departments, programs, and scholarships.
Although reunion classes have always engaged in friendly competition, the reunion classes of 2019 were the first to compete for four reunion cups.
Ten reunion classes. Four awards.
After 12 months of fierce competition, we're pleased to announce the inaugural winners of the reunion cups!
Reunion Cup
Highest Cardinal Weekend attendance
Class of 2014: The youngest reunion class had the biggest presence during Cardinal Weekend 2019.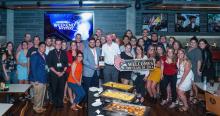 Alumni Cup
Highest donor participation rate
Class of 1969: Of all the reunion classes, the Class of 1969 had a higher percentage of alumni who supported the University.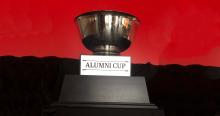 Leader Cup
Most dollars raised
Class of 1984: The 35-year reunion class contributed the largest sum of the nearly $2 million raised by reunion classes.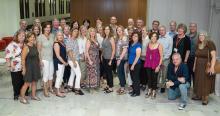 Loyalty Cup
Most multi-year pledges established
Class of 1969: One prize wasn't enough for the newest Golden Cardinals! By establishing multi-year pledges, they'll continue to support their alma mater (and enter the Loyalty Society).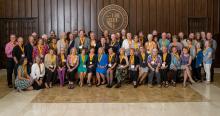 Gratitude for all 2019 reunion alumni
We are grateful for all of our 2019 reunion alumni. Thank you for continuing to advance Catholic University's mission.
2019 Reunion Alumni Donor Honor Roll
John B. Abrams, 2000
Ralph A. Albano, 1984
Joseph J. Allan, 1979
Mary-Margaret Allen, 1989
Luigi J. Alvarado, 2009
Luis A. Ambroggio, 1969
Marcie E. Ament, 1994
Kevin G. Archer, 1984
Alice M. Armour, 1974
Susan L. Arnett, 1974
Coreen S. Arnold, 1974
Jeanne A. Ascosi, 1974
Michael R. Audette, 2004
Allison M. Avallone, 2004
Deborah R. Bailey, 1979
James P. Bailor, 1974
Deirdre M. Bandur, 1969
John M. Barbera, 1974
Nicole A. Barksdale, 1989
Natalie A. Barrero, 2014
Lisa M. Bazzarre, 1984
Mark H. Beck, 1974
Douglas J. Beck, 2014
Johanna Becker, 2009
Kevin M. Beirne, 1999
Caehlin O. Bell, 2004
Sean J. Bellew, 1994
Nick W. Berg, 2009
Thomas J. Berry, 2014
Margaret M. Betit, 2009
Irene M. Bizzoso, 1984
Michael C. Blake, 1989
Susan B. Block, 1969
Michael L. Block, 1969
Suzanne M. Bocchini, 1969
Michael C. Boland, 2000
Elizabeth H. Bollino, 2014
Victor J. Bonardi, 1974
Ellie M. Borowsky, 1989
Edward B. Branch, 1969
Kevin P. Brandon, 1989
Francis P. Brennan, 2014
Sheila M. Brennan Novak, 1984
Christine M. Brew-Mitchell, 1989
Elizabeth M. Briones, 2014
Ann L. Brogioli, 1989
Timothy J. Brooksbank, 1989
Susan M. Brownell, 1984
Linda M. Budney, 1969
Sean K. Burke, 2004
Maryanne B. Burke, 1999
Patrick A. Burke, 2014
Kelly A. Burke Williams, 2009
Belinda B. Burnworth, 1979
Jeannette F. Buscaglio, 1979
Melanie M. S. Byers, 1974
John D. Cahill, 1984
Brian P. Cahill, 2014
Kathryn M. Callahan, 2000
Ellen B. Callier, 1969
Frank C. Callocchia, 2000
Michael L. Camarano, 1974
Paul J. Camilleri, 1969
Courtney C. Campbell, 2000
Margaret M. Campbell Lyday, 1969
Daniel R. Campos, 2009
Kimberly L. Cantwell, 1989
Sarah L. Cao, 2014
Anne M. Capece, 1969
Victor A. Capece, 1969
John L. Capelli, 1984
Debra J. Carfora, 2000
Joseph L. Carlini, 1984
Megan S. Carnell, 1994
Andrew E. Carroll, 2014
John J. Carvelli, 1984
Patrick A. Cavanaugh, 2009
Amanda J. Ceraldi, 2014
Kelli M. Champagne, 2004
Thomas R. Charsky, 1974
Donna M. Chieffo-Ivy, 1969
Nicholas Y. Ching, 1974
Ralph M. Chite, 1979
Thomas J. Christel, 1979
Nancy C. Cioffari, 1969
Rose G. Clancy, 1969
Peter A. Clark, 2004
Elizabeth A. Clement, 2014
James D. Clement, 2014
John C. Codega, 1984
Jean E. Coelho, 1989
Elizabeth K. Comiskey Novick, 1989
Christopher R. Concannon, 1989
Joan T. Connell, 1969
Dianne M. Conte, 1989
Ralph C. Conte, 1989
Christine F. Contillo, 1979
Daniel G. Conway, 2004
Roger P. Cooney, 1969
Victoria A. Coons, 2009
Robert E. Coons, 2009
Stanley L. Cooper, 1979
Mary E. Copeland, 1969
Brian R. Corbin, 1984
Danielle Corpina, 1994
Jonathan D. Corpina, 1994
Anthony J. Corrado, 1979
Lucio Corsini, 1989
Denis P. Cosgrove, 2004
Charles A. Counsil, 1989
Eileen Couturier, 1974
Meghan E. Coyne, 2004
Gregory D. Cummings, 1974
Danny A. D'Agostino, 1974
Robert D'Ambrosia, 1984
Christopher J. Danek, 1989
Annie N. Daniels, 1979
Brie A. Danner, 1999
Todd T. Danner, 1999
John P. Darby, 1984
Victor N. David, 2014
Angela J. Davis, 2009
Kim Dean, 1989
Martin Dean, 1989
Danielle C. DeFalco, 1994
Lisa M. DeFerrari, 1979
Robert D. Denatale, 1989
Bernard G. Dennis, 2004
Anthony F. Dershak, 1969
Paul J. Destefano, 1974
Michael F. Devereaux, 1989
Joseph M. Devine, 2009
Jane J. Deweib, 1969
Patricia M. DeZinno, 1979
Dennis P. Ditmer, 1969
William D. Dittmar, 1974
Karlyn M. Dixon, 2014
Paul J. Dollahite, 1989
Frank S. Donio, 1989
Mary E. Donnelly, 1969
Brianne M. Donnelly, 2004
Andrew G. Donnelly, 2004
Suzanne G. Donofrio, 1989
Richard C. Donohue, 1969
Mary Ann X. Dougherty, 1969
Dana M. Dowd, 1989
Connor J. Dowd, 2014
Kristen E. Dragone, 2000
Steven P. Driscoll, 1974
Cynthia A. Driscoll, 1974
Bernadette T. Driscoll-Engelstad, 1974
Dino J. Drudi, 1979
Deborah L. Dubensky, 2000
Sean K. Duffy, 1989
James W. Duffy, 1999
William H. Dunn, 1969
Gerard A. Duphiney, 1989
Jennifer F. Duphiney, 1989
Nancy L. Dydak, 1974
Ryan L. Ellis, 2000
Sabina C. Emerson, 1984
Susan M. Emery, 1969
Courtney A. Ercole, 1989
Donald R. Erickson, 1994
Christopher A. Ertz, 1984
Kelly A. Evans, 2004
Jo-Ann B. Farley, 1969
Richard A. Fazio, 1974
Dorothy L. Fedorka, 1969
Kalkidan W. Ferede, 2014
Marie J. Ferman, 2014
Maria C. Fernandez, 1974
Robert A. Ferrante, 1979
Jessica Ferris, 1984
Katherine J. Fertakis, 1994
Laura M. Fetters, 1984
Arthur B. Fiore, 1969
Andrea N. Fisher, 2009
Emanuel G. Fitzgerald, 1999
Thomas M. Fitzpatrick, 1969
Joanne F. Fitzpatrick, 1989
Richard W. Fitzpatrick, 1999
Meghan E. Flaherty, 2004
Joanne M. Flanagan, 1984
Joanna S. Flanagan, 1989
Scott N. Flesch, 1994
Jessica M. Flynn, 1999
Francine A. Flynn, 1999
Sean O. Flynn, 2000
Samuel D. Fontana, 2009
Martha Ford, 1974
Erin R. Fowler, 2014
Kathleen A. Frankle, 1969
Patrick A. Fricchione, 2014
James A. Galgano, 1979
Michael J. Gallagher, 1999
Roberto A. Galvez, 1974
Matthew B. Gann, 2004
Eric J. Gannon, 2004
Mary Beth E. Garcia, 1994
Carmen T. Garcia, 1984
Efren V. Garcia, 1984
Elizabeth W. Gardner, 1989
Jennifer M. Gartlan, 1999
Gemma M. Garvin, 1979
Robert A. Gaumont, 1994
Stephanie T. Geary, 1994
Judith Gentile Walters, 1969
Sharon G. George, 1979
Anthony D. George, 1979
Vincent J. Giandurco, 1994
Matthew P. Gianforte, 1999
Florence M. Gillman, 1974
Matthew P. Gittens, 2009
Jeffrey M. Glackin, 1999
Raymond J. Glynn, 1979
Stephen M. Godfrey, 1989
John A. Goetcheus, 1989
Johanna G. Goetcheus, 1989
Michael A. Graham, 1979
Patrick J. Graven, 1994
Patricia W. Green, 1969
Robin M. Greenberg, 2000
Michael R. Gribbin, 2014
Julie D. Grimes, 1979
Alfred J. Guerrra, 1969
Edouard B. Guilloux, 2014
Tara A. Hamilton, 1969
Karen L. Hammang, 1999
Brian J. Haran, 2004
Ann M. Harkins, 1974
Patricia D. Harris, 1974
Felicia M. Hart, 1969
Kenneth W. Haydock, 1969
James L. Heckman, 1969
Laura E. Hehn, 2009
Stephanie M. Helder, 1994
John P. Heliotis, 1979
Estate of Robert E. Hemberger, 1969
Meghan K. Herock, 2014
Todd O. Hevia, 1974
Robert M. Hickey, 1974
Katharine W. Higgins, 1974
Christine Firer F. Hinze, 1974
Carole E. Hoffmann, 1979
Madeline Hotz, 2014
Elizabeth R. Houston, 1994
Cory R. Hudson, 2009
Thomas R. Hughes, 1994
Jacqueline M. Hurley, 2000
Terrence J. Hyland, 2014
Robert Iannone, 1989
Kyle T. Ingels, 1999
Katie E. Irvine, 2014
Yoshiko Ito, 1979
Thomas E. Ives, 2004
Lisa M. Jaeger, 1984
Francis J. Jones, 1979
Michelle S. Jones, 1979
Evelyn Joray, 1969
Lisa C. Jordan, 1974
Richard E. Jordan, 1974
Mary Beth Jorgensen, 1979
Paul M. Joyal, 1979
Dina A. Justice, 1989
Anne C. Justice, 2004
Angela S. Kadesky, 1984
Kristina Y. Kalowsky, 1994
Maryann Karinch, 1974
Julianne Keller, 2009
Edward G. Kelliher, 1969
Patricia R. Kelly, 1989
Siobhan D. Kelly, 2004
William J. Keyes, 1979
Nicholas J. Koas, 1984
Wayne A. Koch, 1974
Helen B. Koch, 1974
Andrea E. Koeth, 2009
Mark E. Korovae, 2009
Regina Kouba, 1994
Michael C. Kowalski, 1994
Thomas R. Koys, 1979
Mark A. Kramer, 1984
Beth A. Kramer, 2009
Mark L. Kraus, 1979
Christopher A. Kremer, 2009
Emily A. Kremer, 2009
Thomas A. Kriksciun, 1969
Christopher M. Kuhn, 1994
Harriet L. Kuhn, 1984
Elizabeth E. Lamontagne, 1979
Ovide M. Lamontagne, 1979
Donald A. Lamontagne, 1969
Karen S. Lamontagne, 1969
Susan M. Landolphi, 1989
John D. Landwehr, 1974
Kristen K. Langan, 2000
Joseph Larocca, 1974
Allyson I. Larsen, 1989
Keith A. Ledwith, 2000
Paula A. Lefever, 1974
Therese M. Lewis, 1999
Lois T. Locey, 2014
John J. Loiacono, 1984
Alex M. Lonnett, 2014
Kenneth J. Lorence, 2009
Joan M. Lotz, 1989
Susan M. M. Ludeman, 1974
Phyllis A. Ludwig, 1984
James M. Lugaila, 2004
Christopher J. Lukawski, 1994
Minhthu N. Lynagh, 1979
Meghan Lynch, 2009
Kyra A. Lyons, 1989
Colette P. Macin, 1984
Kerry H. Mack, 1979
Anne Glodt Madden, 1969
Maria G. Madrigal-Haughn, 1994
Carla E. Maffeo, 1969
Michael J. Maglio, 1979
Iwona M. Malley, 2004
Timothy M. Malloy, 1994
Kevin M. Maloney, 2004
Heidi W. Maloni, 1979
Maria R. Manley, 1989
Peter T. Manzi, 1989
Claudia Marquez, 1989
Paula J. Marshall, 1974
Kenneth J. Martin, 1969
David E. Massaro, 1989
Mary Ann A. Masucci, 1984
Marilina M. Matta, 1989
Julie N. Matthews, 1974
Aileen M. May, 1984
William W. McAdams, 1994
Debra A. McAllister, 1999
Ryan T. McAllister, 1999
Lisa M. McAndrew, 2004
Mary W. McBurney, 2004
Joseph J. McBurney, 2004
Patrick F. McCabe, 1984
James C. McCabe, 2009
John C. McCarthy, 1979
Catherine B. McClave, 1969
Mark J. McClure, 1969
Kelly A. McCormick-Sullivan, 1994
Melissa A. McCoy, 2009
Steven P. McDevitt, 1989
Shane A. McDevitt, 2000
Heather A. McDonnell, 1984
James F. McDonough, 1969
Claire J. McEvily, 2014
James B. McGill, 1969
Kathleen A. McGlynn, 2004
Lorraine B. McGlynn, 1979
Christie R. McGuinness, 2014
John P. McGuire, 1989
Edmund T. McKenna, 1969
Bruce E. McKnight, 1969
Joseph M. McNamara, 1974
Maureen E. McNeill, 1979
Jeremy G. Medina, 2014
Vivian Baran Michalic, 1984
Madeline T. Minich, 2014
Rita T. Minkley, 1969
Joanne M. Moffett, 1979
Matthew L. Monfet, 2004
Cynthia L. Monroe, 1984
Lawrence E. Moore, 1994
Mark A. Moran, 1974
Mary G. Morrison, 1974
Kevin M. Morrison, 1989
Ryan G. Morrison, 2014
Gabriella M. Morrow, 2014
Jonathan K. Morse, 1974
Get W. Moy, 1974
Stacey P. Moyers, 1999
Peter T. Mulhern, 1969
Kathleen Mullin, 1999
John K. Murdock, 1989
Mike A. Murphy, 1969
James M. Murphy, 1969
Roseanne Muscarella, 1999
Susan A. Myers, 1989
Joseph D. Myers, 1989
Brendan N. Nardozzi, 2004
Justin R. Nazari, 2009
Mary Cecilia Neville, 1974
Tam M. Nguyen, 1994
Kathleen A. Noel, 1979
Gary M. Nolan, 1999
Elizabeth M. Nolan, 1999
Ali F. Noshirvani, 1994
Mary H. Novak, 1974
Christa A. Nyamekye, 2000
Esther Nyberg, 2014
Kathleen A. Nystrom, 1969
Edward A. O'Connell, 1989
Victoria G. O'Connor, 2014
Kate E. O'Conor, 2009
Casey C. O'Conor, 2009
Jennifer M. O'Donnell, 1994
Michael J. Offenheiser, 1999
James T. Ohlhaver, 1974
Ellen Dwan O'Leary, 1999
Samuel P. O'Mahony, 2014
Okan Oncel, 2000
Kevin F. O'Neill, 1994
Sara P. O'Neil-Manion, 1974
Kevin J. Oriani, 2014
Sophie M. Oriani, 2014
Patrick F. Ortman, 2009
Michael D. O'Shea, 2014
Adele Pace, 1969
Richard J. Pacesa, 2014
Robert J. Panke, 1989
Marie-France S. Papageorge, 2009
Thomas A. Pape, 1979
Janis K. Pappalardo, 1979
Samuel J. Parker, 1969
Patricia E. Parker, 1974
Lauretta M. Pearl, 1994
Denise M. Peischl, 1989
Richard R. Pelliconi, 1974
Linda P. Perez, 2004
Stephanie W. Persico, 1974
Frank G. Persico, 1974
Wanda C. Peters, 1989
Kristina M. Peterson, 1999
Todd M. Peterson, 2000
Diane I. Pettit, 1969
J. R. Picardo, 2009
Kristina M. Pierno, 2014
Robert F. Pike, 2014
Joseph E. Pindelski, 2000
Elizabeth R. Podlesny, 1994
Bernadette E. Poerio, 2014
Mari F. Pohlhaus, 1979
Meaghan E. Potter, 2009
David T. Powell, 1999
Joseph M. Price, 2004
Marissa J. Pullano, 2004
Christopher E. Pushaw, 1994
John G. Quinnan, 2014
Patrick M. Ratke, 2009
Hayward L. Ratliff, 1989
Mary C. Rawlinson, 1969
Francine L. Redman, 1974
Eric D. Regan, 1989
Bruce R. Reiter, 1979
Kevin P. Rensch, 2014
Lauren E. Rhines, 1989
Patricia Rhodes, 1974
Sarah A. Rihn, 2009
Emily K. Risley, 2014
Adam Rizzo, 2014
Patricia M. Robel, 1984
Ryan P. Robichaux, 2004
Edward P. Robinson, 1989
Fred N. Roe, 1979
Jill A. Rogers, 1994
Valerie A. Rogers Haas, 1984
Michelle R. Rosenello, 1999
Luis Rubio-Losada, 1969
Eileen B. Rumer, 1979
Kevin M. Ryan, 1989
Joseph G. Ryan, 1979
Michelle L. Saad, 1984
Gabriella M. Sacco, 2014
Maria L. Salerno, 1974
Gregory A. Saloy, 2000
Michael G. Samordic, 1974
Amy A. Samuelson, 1994
Rosemary Sanders, 1974
Ryan T. Sanford, 2014
Matthew M. Scalzo, 1999
Mary W. Scanlon, 1979
Peter P. Schaffer, 1984
Maria T. Schirripa, 1999
Pamela S. Schopp-Young, 1974
Peter F. Schramm, 2014
Deborah A. Schroth, 1974
Angela J. Schwartz, 2004
Maria V. Schwieder, 2004
David J. Scuccimarra, 1974
Thomas A. Scully, 1979
Michael F. Seibold, 1974
Michael E. Selden, 1984
Catherine A. Sexton, 1994
Andy A. Shallal, 1974
Barbara M. Shearer, 1969
Brian Sheridan, 2009
Nicholas S. Shields, 2014
Lesly R. Shoupe, 2009
Charles J. Siegert, 2000
Joan K. Sigmund, 1969
Mary K. Simmons, 1969
Richard E. Simpson, 1969
Megan E. Simpson, 2004
Patrick W. Six, 2009
John M. Skenyon, 1969
Mary E. C. Slimp, 1989
Bernard J. Smith, 1979
Tracey B. Smith-Patch, 1989
Jennifer M. Snyder, 1989
Jin J. Song, 1969
Don D. Sotirchos, 1974
Elizabeth A. Soule, 1984
Maria J. Sousa, 2004
Janet R. Southby, 1969
Andrew P. St. Hilaire, 2014
Constance Stalker, 1979
Marian R. Starr, 1974
Daria M. Stec, 1974
John E. Stephenson, 1969
Kelly A. Sternkopf, 2000
Carrie Stevenson, 1989
Elinor S. Stewart, 1999
Colleen E. Strauch, 2014
Steven A. Strazzella, 1989
Thomas J. Striegel, 1984
Danielle N. Stutzmann, 2014
Michael P. Sullivan, 1989
Paul J. Sullivan, 1969
Christopher M. Talarico, 2014
Isabel N. Tanco, 2014
Nancy E. Taussig, 1979
Blake A. Taylor, 2009
Jennifer K. Taylor, 1994
Katherine M. Thomas, 2014
Michael F. Timothy, 1989
Lisa M. Tonery, 1984
Mikaela C. Toth, 2004
Catharine K. Tracy, 1974
Kristen I. Trevino, 2014
Loretta D. Ulincy, 1974
Laura J. Urso, 1994
Elizabeth T. Vaclavik, 1979
Thomas E. Van de Castle, 2009
Christina M. Van de Castle, 2009
Marianne S. van Doorn, 1979
Ronald L. Van Nest, 1974
Jonathan J. Verrecchio, 1994
Raymond H. Vincent, 1999
Joseph P. Voith, 1969
Virginia Volk-Anderson, 1969
Joseph Volpe, 2014
Caroline E. Wadman, 2014
Anji E. Wall, 2004
Ruth W. Wasinger Heckman, 1969
Brian R. Webster, 1989
William D. Weeks, 1994
Tirzah A. Weiskotten, 2004
Eileen A. Welch, 2014
Georgeanne Welde, 1974
Virginia E. Wenzel, 1999
Monica R. Wharton, 1994
Gary M. Wheeler, 1974
Amanda G. White, 2014
Jeanne A. Wieckowski, 1969
Paul R. Wienhoff, 1974
Caroline C. Wilber, 2014
Robert R. Wilhelm, 1979
William J. Wilson, 1969
Angela M. Wilson, 1989
Michael C. Wilt, 1969
Stanley A. Wirpsza, 1974
Emilie L. Wittenberg, 1994
Regina Wu, 1989
Steven D. Yang, 1984
Shafigh Youssefzadeh, 1974
Bernard P. Zipprich, 1974
Gail F. Zwirner, 1974
Published on: Tuesday, January 28, 2020
Tags: Reunion Class Challenge