On Saturday, April 2, the energy and emotion were palpable within Maloney Hall's Della Ratta Auditorium, which was packed with a standing-room-only crowd. What better place to welcome the newest members of the Athletics Hall of Fame than a space named in honor of the alumnus often considered Catholic University's greatest athlete: Joseph M. Della Ratta, B.A. 1953.
About the ceremony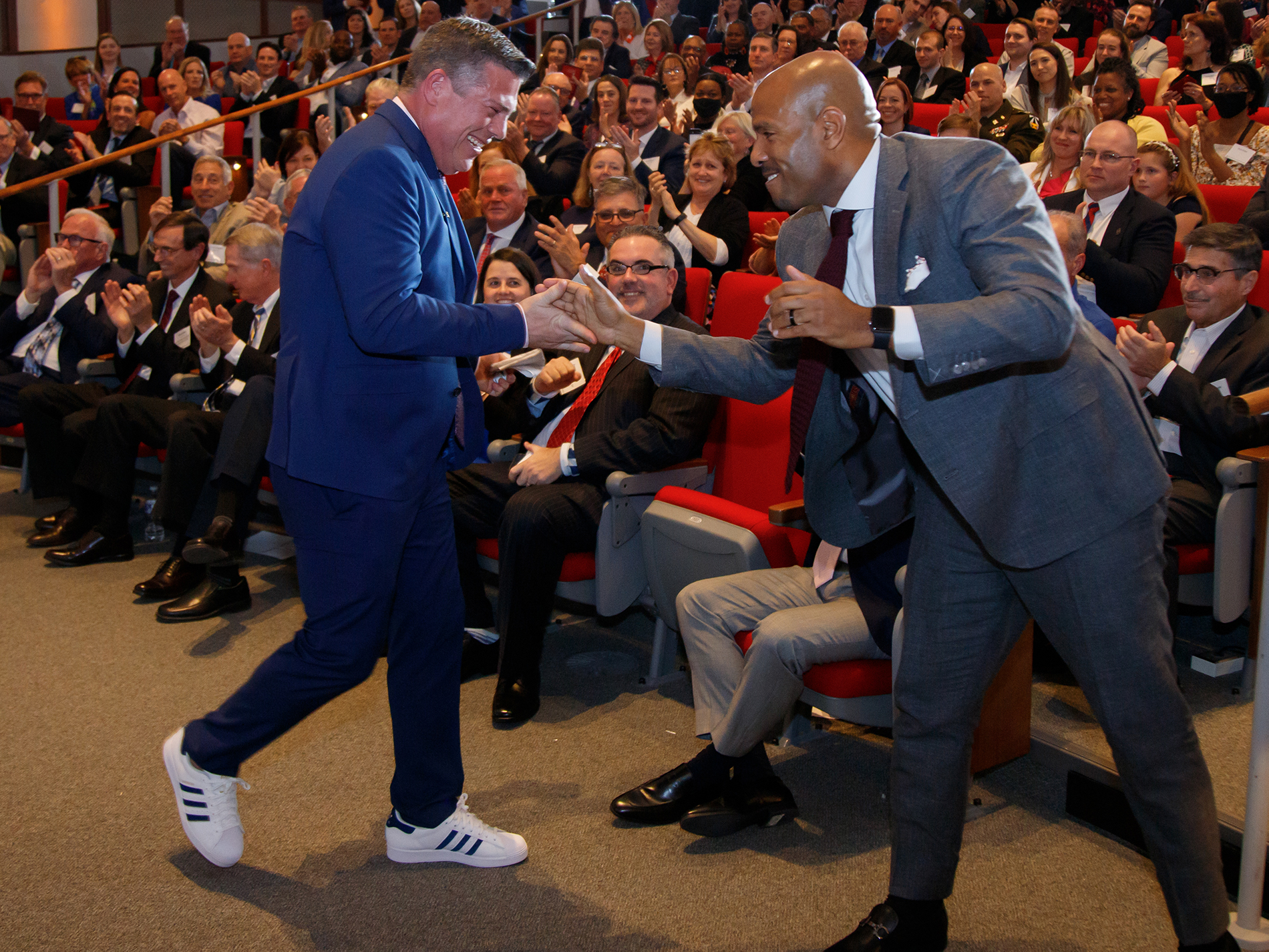 The ceremony was hosted by Tim Kurkjian, an ESPN baseball writer and commentator who is the brother of alumni Andrew, B.A. 1975, a Hall of Fame baseball player, and Matt, B.A. 1978, a member of the 1977 Hall of Fame baseball team. In addition to the eight new alumni inductees, 15 existing Hall of Fame alumni and coaches were in attendance.
"St. John Paul II, in his homily on the occasion of the Jubilee of the Redeemer, April 12, 1984, said, 'Sport is the joy of life, a game, a celebration.' He said athletics had the ability to strengthen bonds of friendship, to foster dialogue and openness to others, and was a way to express the richness of being," said University President John Garvey. "Joe, Philip, Angela, Brian, Kevin, James, Patrick, and Kevin all represent those ideals. These eight athletes we induct into the Hall of Fame today experienced the love of their sport and all the other emotions that came with their sacrifices. We salute their achievements, strength, and dedication. Most of all, we are proud they are part of our Cardinal family."
Sean Sullivan, associate vice president and director of Athletics, said it's not uncommon for former college athletes to look back and wonder if all their efforts were worth it.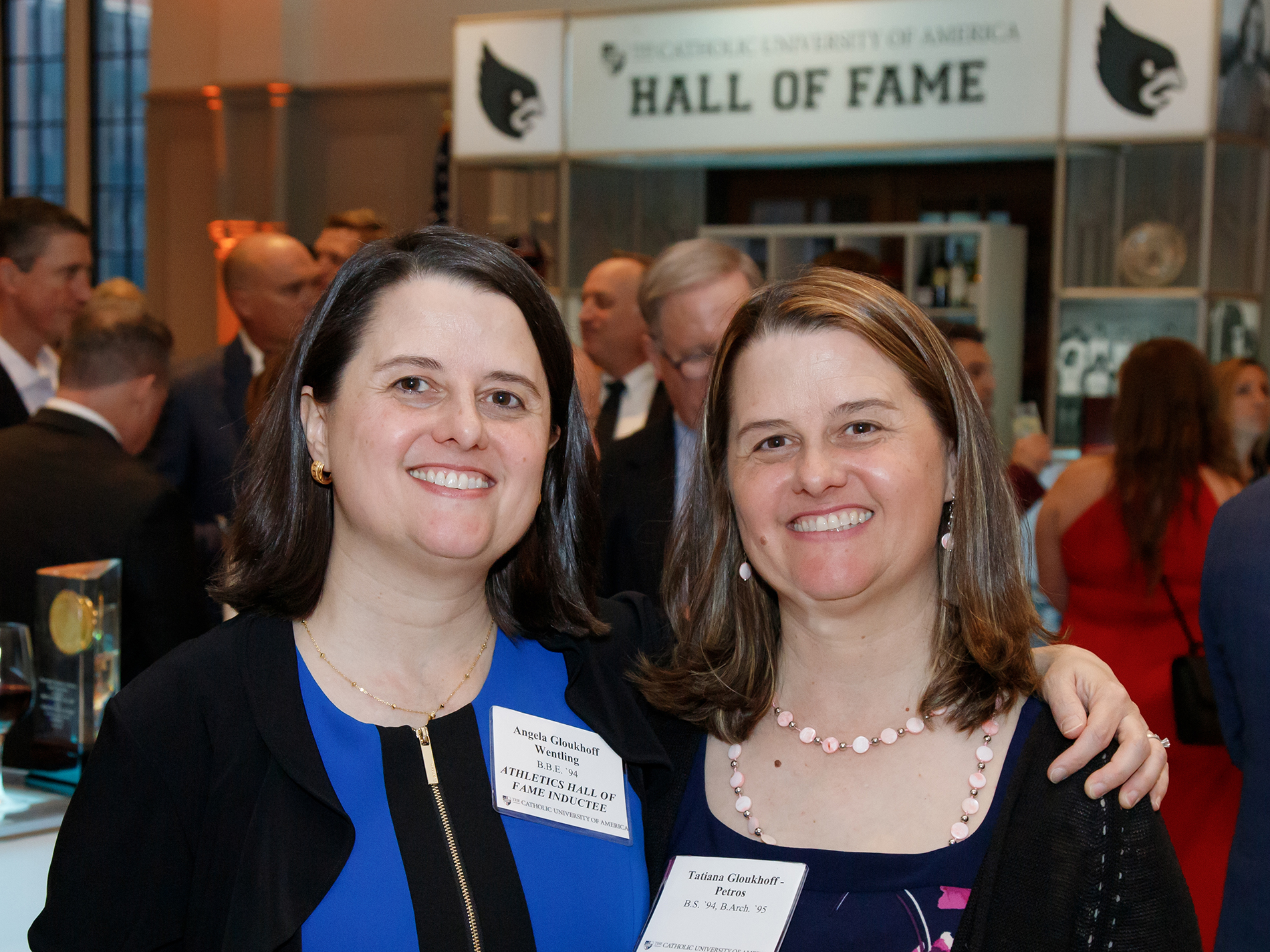 "We can count up the wins, the championships, the personal bests, and the school records, and it's highly evident that our eight inductees absolutely made a difference in the trajectory of their programs. Each of you is undoubtedly among the very best to ever don a Catholic University jersey…in any sport," he said. "Seeing all of the faces here in the audience today, choosing to come and celebrate with you, is testament to how you eight have made so many of us feel. You definitely made a difference. You definitely left a mark upon this department and school. A mark that current and future Cardinals, even that uncertain freshman upon first arriving in Brookland, will aspire to reach themselves one day."
About the Class of 2020 inductees
Experience their accomplishments and hear them tell their stories in these exciting, heartwarming videos.
James Blackburn, B.A. 1975, M.A. 1978, Joseph Fisher, B.A. 1975, Philip Homan, B.S. 1976, and J. Kevin Keating, B.A. 1973
A band of brothers who excelled in many track and field and cross country events. Additionally, Fisher coached the women's track and field and cross country teams for 41 years and helped established the prestigious Thaddeus F. Aubry Jr. and Leon A. LeBuffe Scholarship Fund for minority students in the D.C. area.
A leadoff hitter who held the Catholic University baseball record for most hits in a season (52) for 11 years. He is the general manager of the New York Yankees and a 1998 recipient of our Young Alumni Merit Award.
Angela Gloukhoff Wentling, B.B.E. 1994
Patrick Maloney, B.A. 2002
Kevin Ricca, Class of 1998
Published on: Tuesday, April 26, 2022
Division: Athletics Department
Tags: Athletics Hall of Fame, Men's Athletics, Women's Athletics, Alumni Awards