Oh my gourd! This Halloween, light the way with your very own Cardinal O'Lantern!
Use our Halloween pumpkin stencils to carve a Catholic University-themed jack o'lantern. Your neighbors will envy your sophistication, trick-or-treaters will flock to your candy bowls, ghosts will tremble at the sight of your carvings, and all saints will feel honored by your artistry.*
With a single download, you'll receive a printable PDF file that includes all five Cardinal O'Lantern stencils.
*Results may vary. Not all claims have been proven to be true.
Step-by-step instructions
We tested each design and found that even humanities majors could succeed with the most difficult stencils. We'll guide you through the process and give you some tips we learned along the way. Even if you've never carved a pumpkin, you can make your Cardinal O'Lantern dreams come true!
1) Print pattern and attach to pumpkin.
Before you grab your tape, hollow out your pumpkin. (Save the seeds to make a delicious, roasted treat later!) Take care to smooth the insides now, removing the sticky, stringy bits that could cause some difficulties later.
Secure the stencil well so it doesn't slide as you transfer the pattern. You may need to dry the pumpkins and your fingers to help your tape stick.
2) Transfer pattern to pumpkin, poking holes along the dotted line with a toothpick or other poking tool.
You don't need to poke deeply. Focus on transferring the pattern: carving will come later.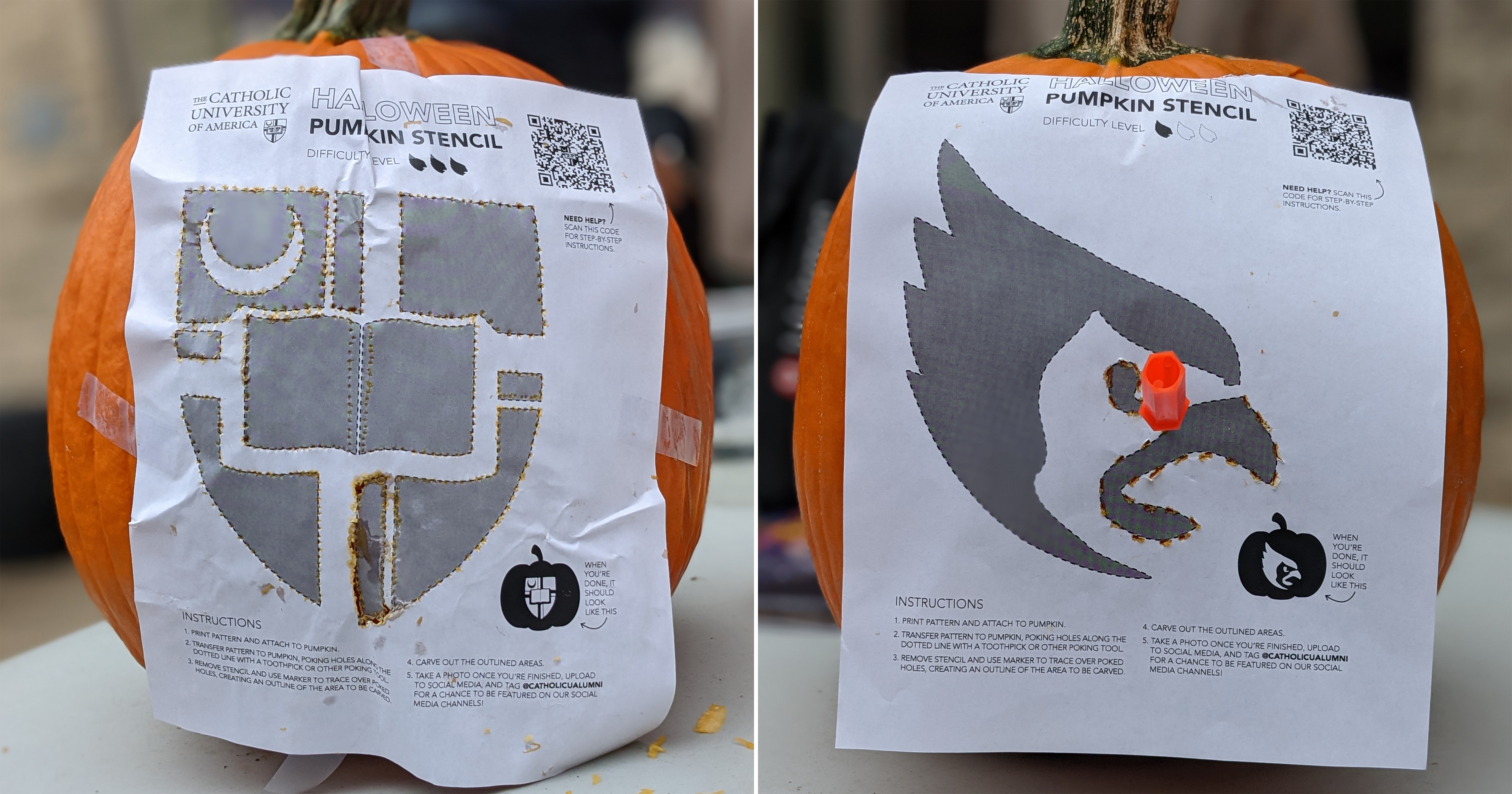 3) Remove stencil and use a marker to trace over poked holes, creating an outline of the area to be carved.
Admittedly, we didn't make outlines on our pumpkins. But we also made a few mistakes when we started carving. C'est la vie!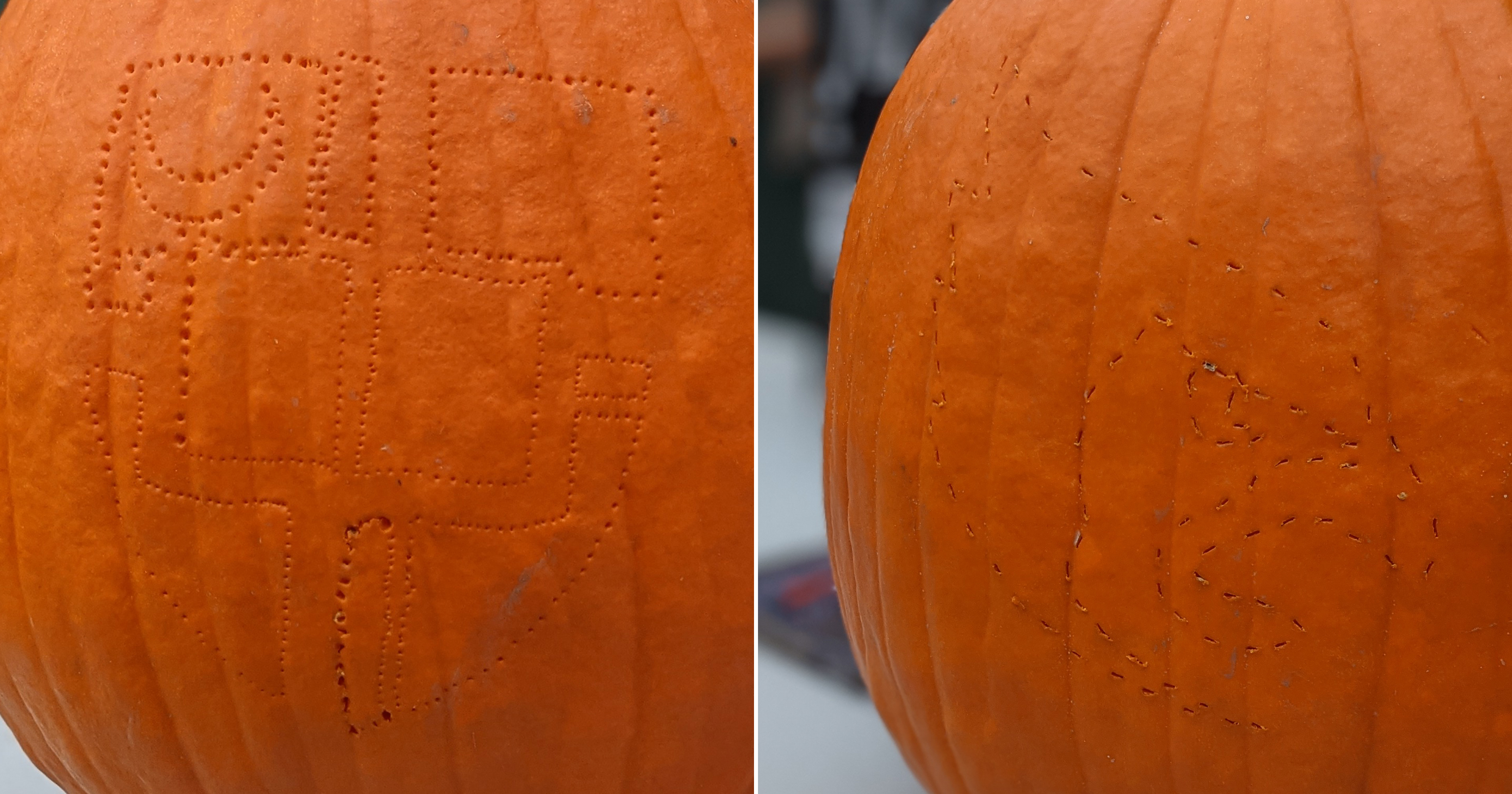 4) Carve out the outlined areas.
We recommend specialty carving tools. With small, thin blades, you can make the fine cuts these stencils require.
Don't worry about any mistakes. You're not being graded!
Feel free to cheat: Make your lines a little thicker to hold everything together.
Toothpicks can help: Use them to reattach or reinforce pieces.
Celebrate your uniqueness: Your Cardinal O'Lantern is special no matter what.
5) Take a photo once you're finished, upload it to social media, and tag @CatholicUalumni for a chance to be featured on our social media channels.
Congratulations on a job well done!
We want to see your handiwork, celebrate your Cardinal pride, and help your Cardinal O'Lantern grow brighter! Tag @CatholicUalumni on Facebook, Instagram, or Twitter, and we may share your image(s) with our followers.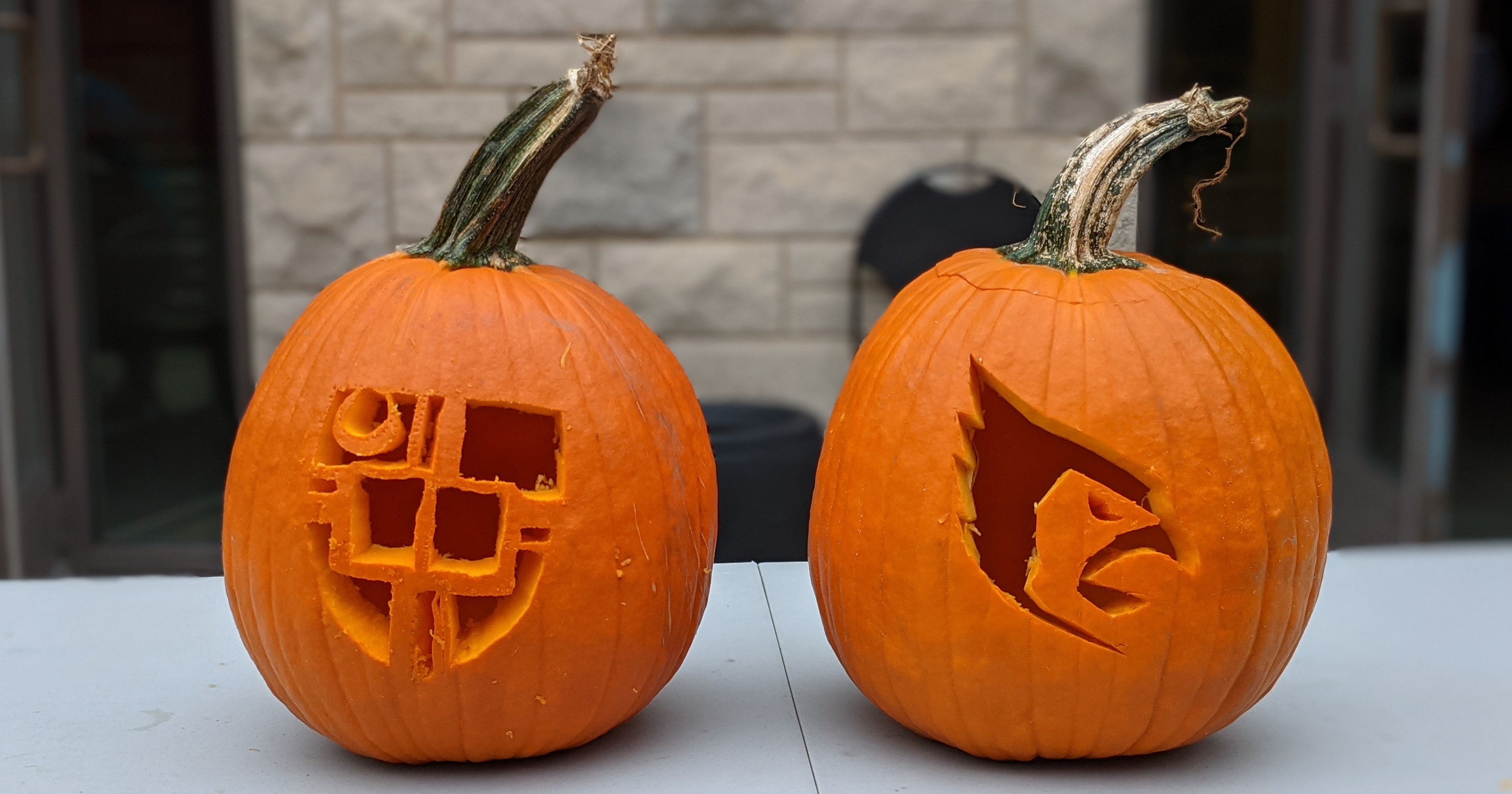 Happy Halloween, Cardinals
We look forward to seeing your Cardinal O'Lanterns during this spooky season!
Published on: Thursday, October 7, 2021
Tags: Halloween, Activity Book