Biomedical Engineering, Thaddeus F. Aubry and Leon A. LeBuffe Scholarship
I am grateful for your investment in me through this scholarship. Not only does my scholarship contribute to my education in a financial way, but it is also extremely helpful for my continued success at Catholic University. The support is so meaningful to me and my family, both in my degree program here and as I consider pursuing graduate education. Thank you for your investment in me.
Catholic University offered a combination of outstanding academics and the camaraderie and community I sought. Without the scholarship, I would not have had the opportunity to meet so many wonderful people who are meaningful to me. I have been able to spend the time here networking and building community among the minority groups and faculty and staff while I build my knowledge base and my resume at the same time. For these reasons, the scholarship has impacted the whole of my life in a positive manner.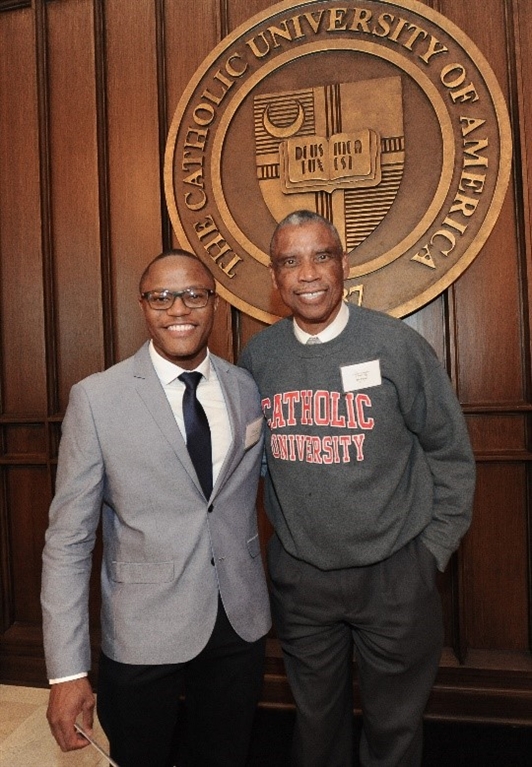 After graduation, I plan to continue my studies in graduate school, enrolling in a dual-degree program in pursuit of a Master's degree in biomedical engineering with a Master of Business Administration degree. This next phase of my education will prepare me well for my future career as a sales engineer representing medical device companies.
In addition to my studies, I am a third-year resident assistant, a member of Black Student Alliance, a member of the Biomedical Engineering Society, and the treasurer for the D.C. chapter of the American Red Cross. I have had internships with the U.S. Department of Veterans Affairs hospitals, where I was fortunate enough to also participate in DNA research.
In the future, I plan to give back to Catholic University by passing on the message of building community among minority groups on campus and the campus community as a whole. This worthy goal can be achieved through positive dialogue, fostering relationships through programs and events, and helping younger students through financial and academic hardship and in working together with faculty and staff. I volunteer with CUA Justice for Juniors, through which I am able to serve as a mentor to juveniles who are awaiting trials at the Youth Services Center in northeast D.C. This experience has reinforced my belief that positive relationships and a sense of community are crucial for success.
It's important to me to set an example of positive leadership, showing by my words and deeds how people can achieve personal goals while always remembering where they come from. For me, service to those who paved the way is vital — giving back to your community and those who have helped you get to where you are and will help you get where you're going.