The University celebrated the establishment of the School of Engineering's first endowed chair Tuesday evening, Sept. 12. The inaugural recipient of the St. Albert the Great Endowed Chair in Engineering — made possible by a gift from an anonymous donor — is Santiago Solares, an expert in nanotechnology who joined the faculty this year.
University President Peter K. Kilpatrick, who holds a doctorate in chemical engineering like Solares, said during the installation ceremony in Heritage Hall that Solares' work reflects the spirit of the patron saint of scientists, Albert the Great. 
"(Solares) is a man of both faith and science. … I know he will bring much renown to the school," said Dr. Kilpatrick.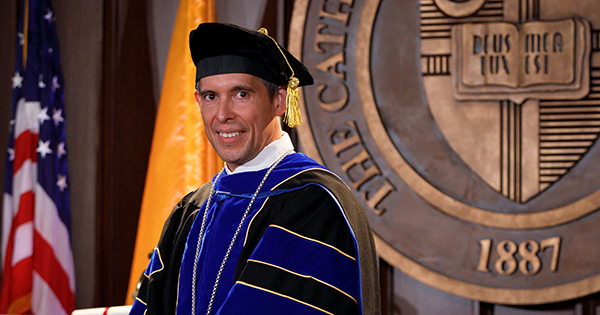 Solares returned to academia to teach the next generation of innovators and earned his doctorate in chemical engineering from the California Institute of Technology in 2006. 
Solares' most recent research focuses on characterizing the mechanics of soft viscoelastic materials such as the surfaces of cells, placing him at the intersection of mechanical and chemical engineering, material science, and biology. He joined the University from his previous role as a professor of engineering and applied science at George Washington University, where he had taught since 2014. 
After being presented a medal symbolizing the honor from University Provost Aaron Dominguez and Engineering Dean John Judge, a visibly humbled Solares shared how his professional pursuits are intertwined with his Catholic faith. 
"It is impossible not to see God's hand in creation. The more one discovers, the more one finds. I very much look forward to working with our students and my colleagues in the search for truth, goodness, and beauty guided by faith and reason," said Solares. 
Dean Judge said, "He's an outstanding researcher and an award-winning educator with a strong focus on collaborative work and building caring relationships with his colleagues and his students."
The St. Albert the Great Endowed Chair in Engineering was one of 16 newly endowed chairs added to the University during Light the Way: The Campaign for Catholic University, which concluded earlier this year and raised $21.9 million for the School of Engineering. 
 
View the full event:
Published on: Sunday, October 22, 2023
Campaign Theme: Faculty Excellence
Tags: academic environment, Endowed Chair, engineering