Lisa Crooks, B.A. 1993, "pays it forward" through philanthropic support of Catholic University as a way to show her gratitude for a phenomenal educational experience.
Studying Latin and Classical Humanities was only a part of Crooks' Catholic University experience. She also fondly remembers her time as a student-athlete. For four years, Crooks was a member of the women's swim team and served as team captain her senior year. An exciting moment in her swim career occurred during her freshman year in 1989-90, when both the men's and women's swim teams went undefeated.
"I'm grateful to have had the opportunity to pursue academics and athletics simultaneously. Both programs were rigorous and rewarding. It kept me focused, goal-oriented, and disciplined, and also instilled a sense of teamwork, all of which laid a solid foundation for my career as an Army officer."

Lisa Crooks, B.A. 1993
In 2013, Crooks retired from the U.S. Army as a Lieutenant Colonel after 20 years of active duty. Her husband is still on active duty, so she remains connected to the Army as a military spouse.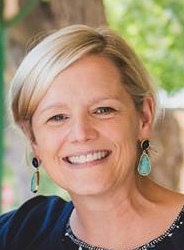 The family recently moved to Virginia. Since retiring, Crooks has spent most of her time as a volunteer and board member for various organizations. Not only does she volunteer with the Catholic University Alumni Association as a member of the Board of Governors, but she is also actively involved with her childrens' school's Parent Teacher Organizations, Army Family Readiness Groups and Spouses' Clubs; the YMCA; the Historical and Archaeological Society of Fort Riley; the Daughters of the American Revolution; and autism advocacy groups.
For Crooks, attending Catholic University was "one of the best decisions" she ever made. Even today, she calls that choice "life-changing."
"Not only did I receive an excellent education that was enriched through participation in intercollegiate sports, but I also made life-long friendships and grew in my faith."

Lisa Crooks, B.A. 1993
She has been excited by the growth she's seen on campus since her graduation.
"I was in awe when I returned to campus in 2015, and saw all the changes that had occurred over the past decade since my last visit. The improvements and additions to the physical campus, as well as new academic programs, were particularly impressive," Crooks said.
Crooks hopes Catholic University continues to build upon its tradition of excellence. She also wants to encourage other alumni to lend their support, "whether it be through time, talent or treasure."
"There are so many ways to support Catholic University besides financially," she added. "Hiring other alums, referring prospective students, and attending events such as Cardinal Weekend are just a few of the ways that alumni can give back."