Systematic Theology, The Thomas and Marilyn P. Donnelly Scholarship
The opportunity to study at Catholic University with its many brilliant and holy faculty and student body is a great joy. When I was looking at graduate programs, the most important factor for me was the quality of the faculty. So much of being a Ph.D. student is working one on one with professors in a close environment, so it was important to me to put myself around the people who would help me become a respectable theologian while mentoring me in becoming a certain kind of professor for my own future students.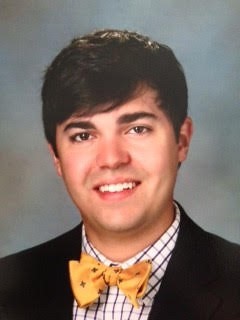 No other school compared with Catholic University; for me, the program was my top choice because it is head and shoulders above all the other programs I was considering. But I would not have been able to come to Catholic University without the scholarship. Not only would it have been too much debt, but my wife is a stay at home mom, raising our three-month old daughter, Lily. The scholarship makes this all possible, especially because our extended family is far away.
My hope is to find a teaching position at a university or seminary in south Louisiana where I am from, so I can research and contribute to my field while also contributing to and serving the Church, specifically the local church. I am extremely grateful for the scholarship, which gives me the chance to serve the Church as a theologian and to help form future priests and laity. In thanksgiving, I offer donors my future years of service to the Church as well as my prayers.
I grew up Catholic, but I really learned to love Jesus Christ in college, where I became enamored with the idea of truth, of Jesus Christ as truth. So, I continue to study philosophy and the arts in general, always hoping to gain knowledge about the human pursuit of living in accordance with what is true and good and beautiful. In my studies, I concentrate most on the thought of Joseph Ratzinger/Pope Emeritus Benedict XVI as well as the documents of the Second Vatican Council and the right relationship between the Church and State in light of Catholic tradition.
I graduated from LSU in Baton Rouge with a Bachelor of Arts in Philosophy and a Bachelor of Science in Psychology. I had a scholarship there as well, and I was able to complete both programs in four years, so I made the most out of my scholarship. I completed a Master of Arts in Theological Studies at Notre Dame Seminary in New Orleans. I've served in both an all-boys high school and an all-girls high school, both of which were wonderful experiences and gave me an outlet for what I was learning in my classes. 
While at the all-girls school, I started doing a Master of Arts in Philosophy through Holy Apostles College & Seminary, an online program that I can continue to complete in the summers on the side during breaks in the Catholic University schedule. In addition, I am a research assistant to Dean Joseph Capizzi and a graduate fellow at The Institute for Human Ecology. Whenever I'm not face first in philosophy and theology, I am keeping up with my basketball and football teams. I played both when I was growing up, and I am a huge fan.
I hope I will be able to give back financially, especially with scholarships to the theology program. I would love to be able to make it easier for other students to come here. It would also be meaningful to me to contribute to the intellectual life of the university, such as by one day coming back to speak.