Jacqueline Mars has made a gift of $1.25 million to help Catholic University create a fitting home for Angels Unawares, the 3.5-ton, 20-foot-long sculpture designed by renowned artist Timothy Schmalz and gifted to the University in 2020 by an anonymous patron.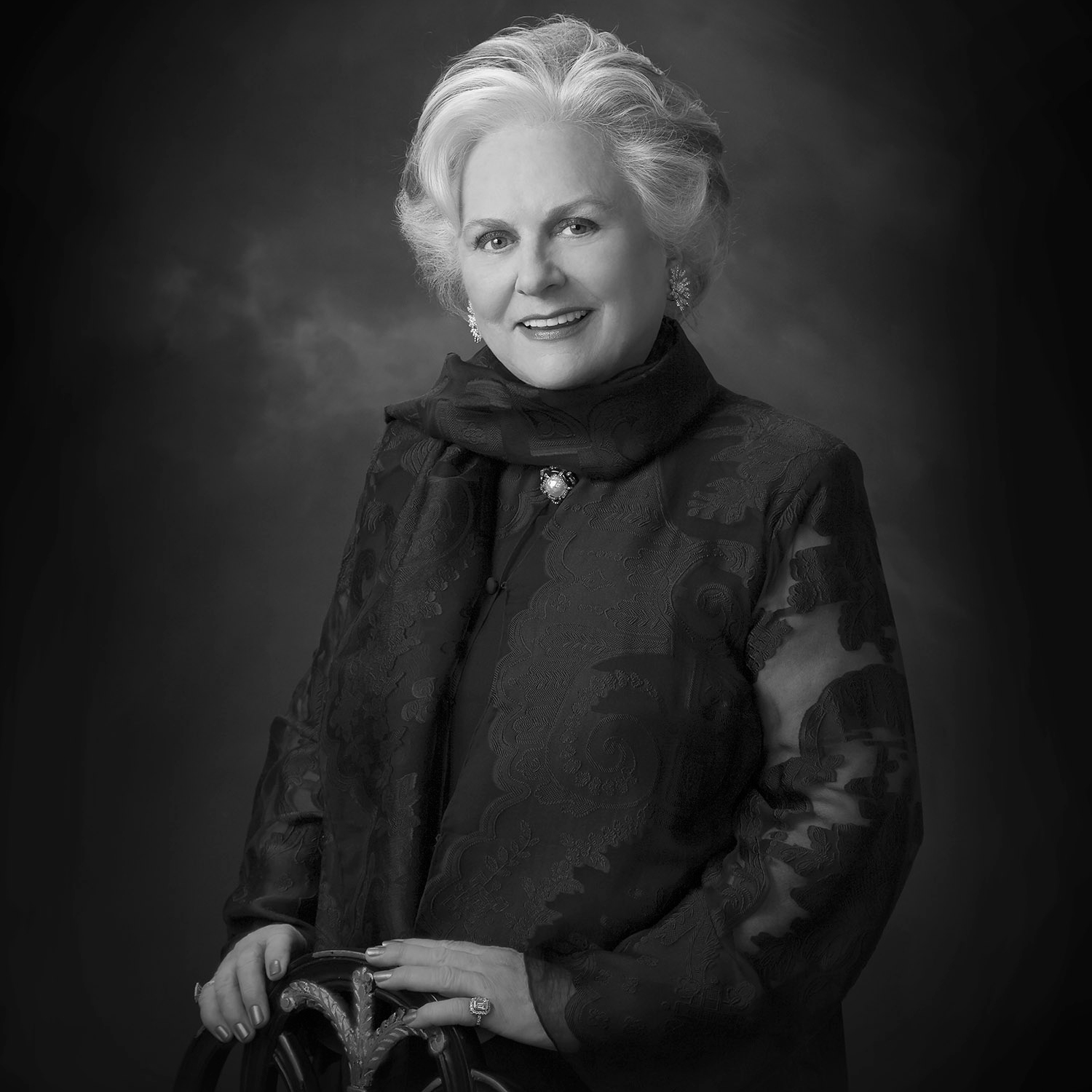 Mars is a co-owner of Mars, Incorporated and a generous philanthropist with a particular interest in supporting the arts and higher education. Growing up just outside of Washington, D.C., Mars said she always knew of Catholic University, although she didn't have a personal connection to the school. In 2020, that changed when she had dinner with University President John Garvey and Washington Cardinal Wilton Gregory, University chancellor. After learning from them about the University's excellent arts programs, she was inspired to lend her support.
Mars' first gift to the University benefitted the Benjamin T. Rome School of Music, Drama, and Art. "The arts speak to everyone, regardless of who they are or where they come from; the arts are ecumenical," Mars said.
Then, Mars learned about Angels Unawares and its journey to Catholic University. The bronze sculpture is the second casting of a piece originally commissioned by Pope Francis. The first casting was installed in St. Peter's Square in 2019. The name of the piece comes from the Bible verse that inspired the work, Hebrews 13:2: "Be welcoming to strangers, many have entertained angels unawares."
The sculpture depicts more than 140 migrants and refugees from across history tightly packed onto a boat. Some look back, but most look forward with hope toward the future and a new life. Angels Unawares was created to embody the Church's teachings on immigration, particularly the importance of welcoming the stranger and celebrating the many contributions of migrants and refugees to our society.
"I find it personally very moving, and it really reminds me of what this country is about. This country was founded on immigrants, and isolationism is not possible in this world today," Mars said. "When you turn away someone, you don't know who you're turning away."
In 2020, Schmalz approached the University with an offer to permanently install his second casting on campus. Both he and his patron felt strongly that it should find a permanent home in Washington, D.C., and as the national university of the Catholic Church in America, Catholic University was the perfect location.
"I'm so glad it will be in the capital, where so many issues of immigration are being dealt with. I truly can't think of a better place for it in the country. We may not geographically be the center of the country, but we are definitely the heart of the country."

—Jacqueline Mars
In September 2020, the sculpture was unveiled and blessed in a ceremony on campus. Then, in November, Angels Unawares began a national tour, a pilgrimage that has allowed people across the country to share in its message of welcome and hope. So far, the statue has made stops in Boston, New York, Atlanta, Miami, and New Orleans. In June, it will move to its next stop in San Antonio, with future stops planned for Napa Valley and Minneapolis.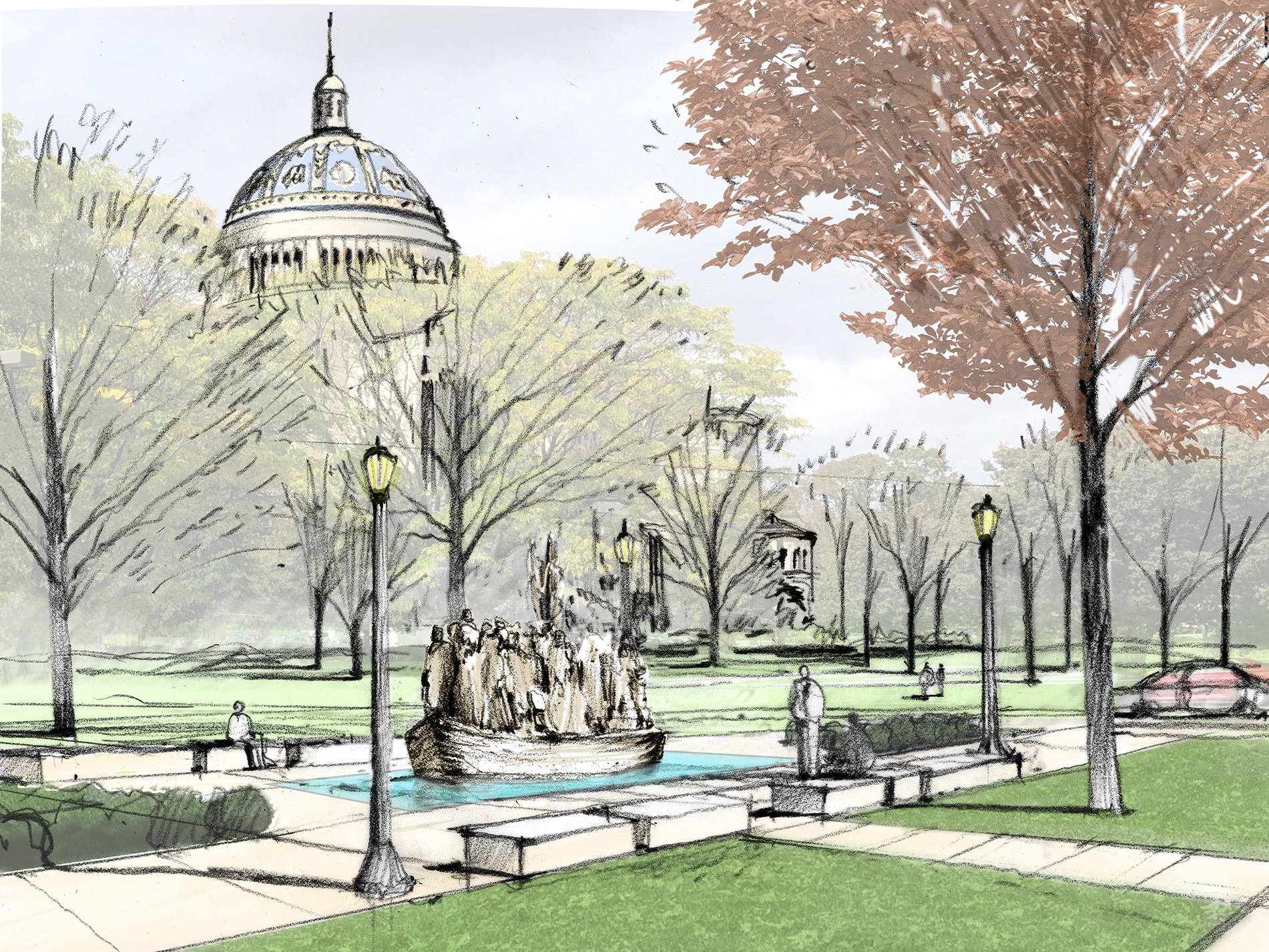 This October, Angels Unawares will return to campus to be permanently installed in a new plaza, which will be located between Father O'Connell and Gibbons halls and will be visible to all who pass by campus on Michigan Ave., N.E. The plaza will include a reflecting pool and seating. The sculpture will be placed within the reflecting pool, so that the bronze boat seems to be sailing into campus.
"It just seemed so appropriate to have that water element, and that it should be floating as a boat, especially when you think of immigrants and all of the images of them crossing the sea," Mars said.
Both Mars and the University hope this plaza and Angels Unawares will become a destination for the University community and for the tens of thousands of faithful pilgrims who visit the adjacent Basilica of the National Shrine of the Immaculate Conception each year.
"I believe in the power of the visual arts, and what this sculpture represents. I think it really is an important piece of art and has the ability to inspire people, so I'm truly hopeful it will have the same effect on other people that it had on me. And I'm very proud to have it as part of Catholic University, a place where it can speak to a lot of people, both young and old, from this country and elsewhere."

—Jacqueline Mars
University President John Garvey is grateful for the gift that will help create a home for the statue.
"I am thankful to Jacqueline Mars for her gift, which will help create a site where visitors can contemplate this important work," he said. "Angels Unawares will serve as a constant reminder to make space in our hearts, thoughts, prayers, and actions for the immigrant, refugee, and persons who are displaced or homeless."