Two years was too long! From Oct. 15-17, we welcomed our alumni family back to campus for our first in-person Cardinal Weekend since 2019. All alumni were invited to participate in the weekend's festivities, and alumni of particular classes were encouraged to attend special reunion celebrations, including alumni from class years ending in zeros or fives — who had a virtual Cardinal Weekend in 2020 — and ones and sixes. Over the course of the three days, total attendance was just shy of 3,000.
Friday: A long wait ends and the good times begin
On Friday, October 15, Cardinal Weekend began on the University Mall. Simultaneously, members of the Class of 2020 donned their regalia and headed into the Basilica of the National Shrine of the Immaculate Conception for a long-overdue in-person graduation ceremony.
Class of 2020 Graduation Ceremony
During the especially tumultuous early days of the pandemic, the Class of 2020 was promised an in-person graduation ceremony. On the opening day of Cardinal Weekend 2021, that promise was fulfilled. Nearly 300 members of the Class of 2020 gathered in caps and gowns — their families looking on — in the Great Upper Church of the Basilica of the National Shrine of the Immaculate Conception.
During the ceremony, University President John Garvey presented an honorary doctorate degree to Kevin Ryan, B.A. 1989, president and CEO of Covenant House International. Ryan then addressed the Class of 2020 with a message of love and hope: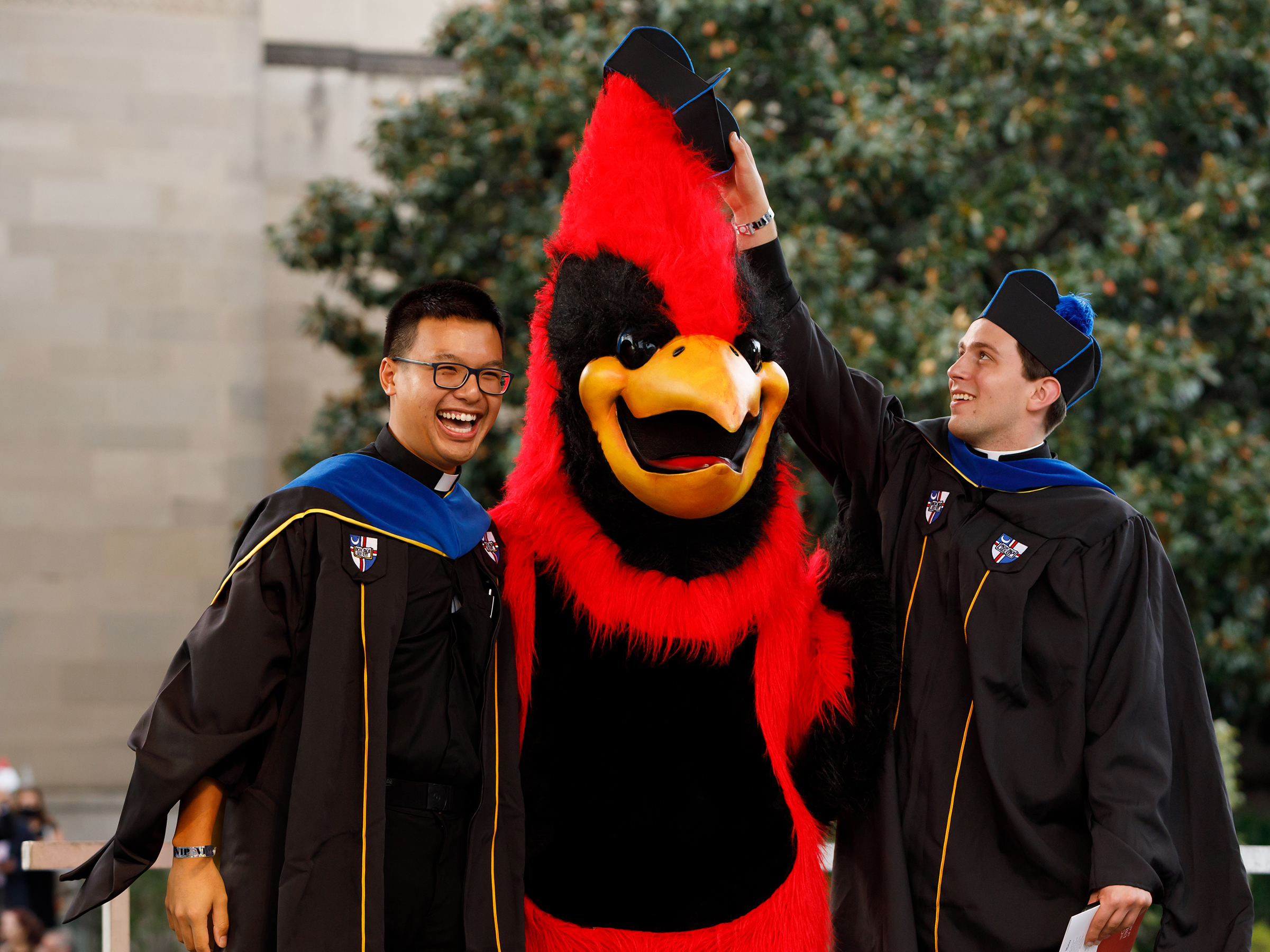 "Now more than ever, the world needs heroes. And here you are, Class of 2020. You are already heroes to me. [...] You have returned today and you rise this afternoon."

— Kevin Ryan, B.A. 1989
Each graduate in attendance had their name read by the dean of their school, and the alumni were treated to a standing ovation. After exiting the Basilica, they had a chance to walk across the Cardinal Fest stage, and a special tent awaited them to continue the celebration.
Cardinal Fest
The weekend began with a gathering of more than 1,000 at Cardinal Fest on the University Mall, which featured food, drinks, games, and representation from a number of the University's schools and organizations. The weekend began with Cardinal Fest on the University Mall, which featured food, drinks, games, and representation from a number of the University's schools and organizations. Some alumni climbed aboard a double-decker bus for a tour of campus; families enjoyed face painting, giant bubbles, and a petting zoo; and everyone had the opportunity to eat and drink, including ice cream and cookies from food trucks.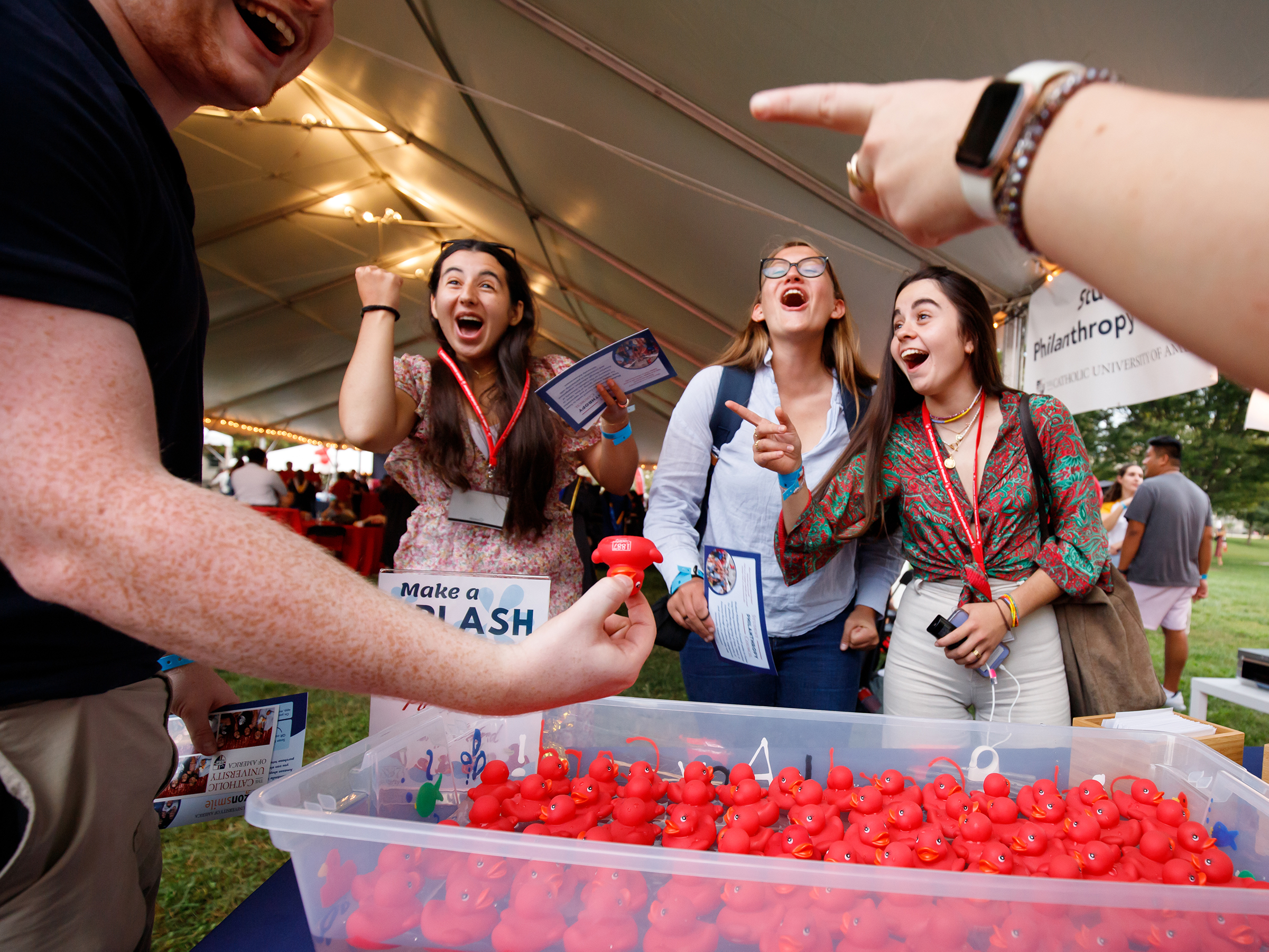 Following student performances by Red Line A Capella and CUA Gaels, a very special announcement was made. President John Garvey revealed that Catholic University surpassed the original $400 million fundraising goal of Light the Way: The Campaign for Catholic University six months early.
"I could not be more proud of our community for reaching this milestone. Thank you for your dedication and support of Catholic University."

— University President John Garvey
Garvey made the announcement along with Board of Trustees Member and Campaign Co-Chair Enrique Segura, who shared that the Campaign has been extended another year and the amount increased to $500 million so even more can be accomplished to strengthen the University.
"I know we can achieve this goal with your help. […] When we all get involved, amazing things happen to benefit our students and faculty. We can do this!"

— Enrique Segura, University trustee and Campaign co-chair
Following the announcement, the University debuted its third Campaign video, which received much applause from the audience.
Movie night and happy hour
Following Cardinal Fest, some attendees spread out blankets on the University Mall and watched the original "Toy Story." This family movie night was a first for our Cardinal Weekend activities.
Meanwhile, others headed to the center of campus for happy hour at Murphy's Grill in the Pryzbyla University Center.
Saturday: Gathering under the tent, cheering for the home team, and reuniting
On Saturday, October 16, alumni returned to campus for our biggest homecoming and reunion traditions: The Pre-Game Tent Party, Homecoming football game, and special celebrations for reunion alumni.
Pre-Game Tent Party and Homecoming Game
Once again, the tent party delivered and the home team earned the win! Before the game, alumni gathered under and around a tent outside the Raymond A. DuFour Athletic Center. Smiles, hugs, and good times abounded, Cardinal Weekend 2021 proved, once again, why the Pre-Game Tent Party is an alumni favorite!
When the football game began, alumni filled the stands to watch the Catholic University take on the Coast Guard Academy. The Cardinals dominated, defeating the Bears 30-7, encouraged by a cacophony of cheers.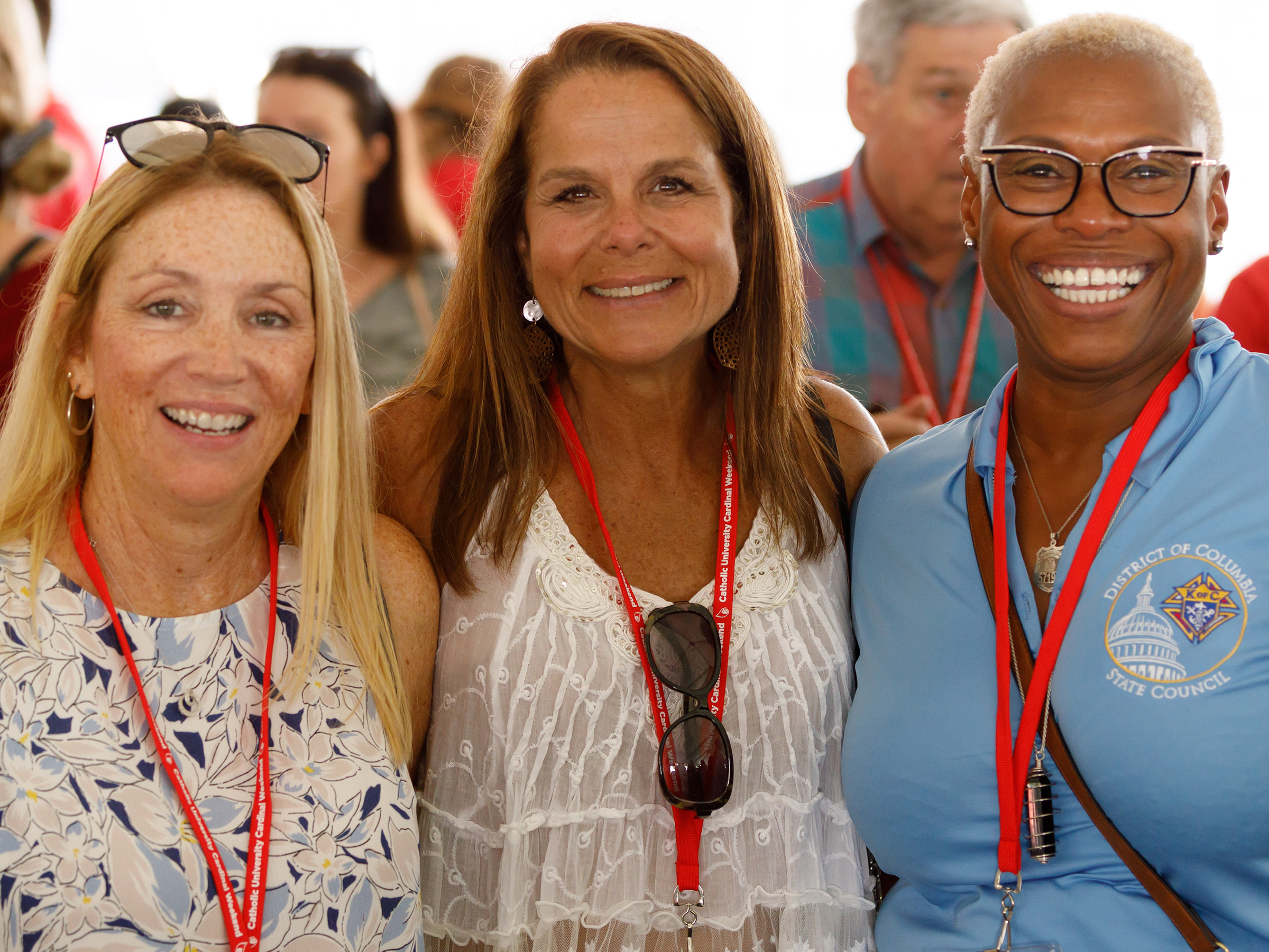 During halftime, a large vanity check was presented to Alumni Association President Chris Pierno and Rashaun Martin, past president, reflecting gifts made to the University from the various reunion classes. This year's check was for a whopping $2,517,377.44 from zeros, fives, ones, and sixes. The Class of 2015 made the most gifts, and the largest total giving amount came from the Class of 1975, which donated nearly $800,000.
Reunion celebrations
The fun continued into the evening with class reunion parties scattered across campus.
The Class of 2020 was treated to a special off-campus celebration at City Winery.
Sunday: Saying farewell and honoring an endowed scholarship
Cardinal Weekend closed Sunday. After Mass, many alumni gathered in Heritage Hall to say their goodbyes over coffee and donuts.
Some alumni remained on campus a few hours longer to meet students who had been awarded the Thaddeus F. Aubry and Leon A. LeBuffe Endowed Scholarship, a minority scholarship program that began in 1969 to benefit promising young students from the Washington, D.C., area.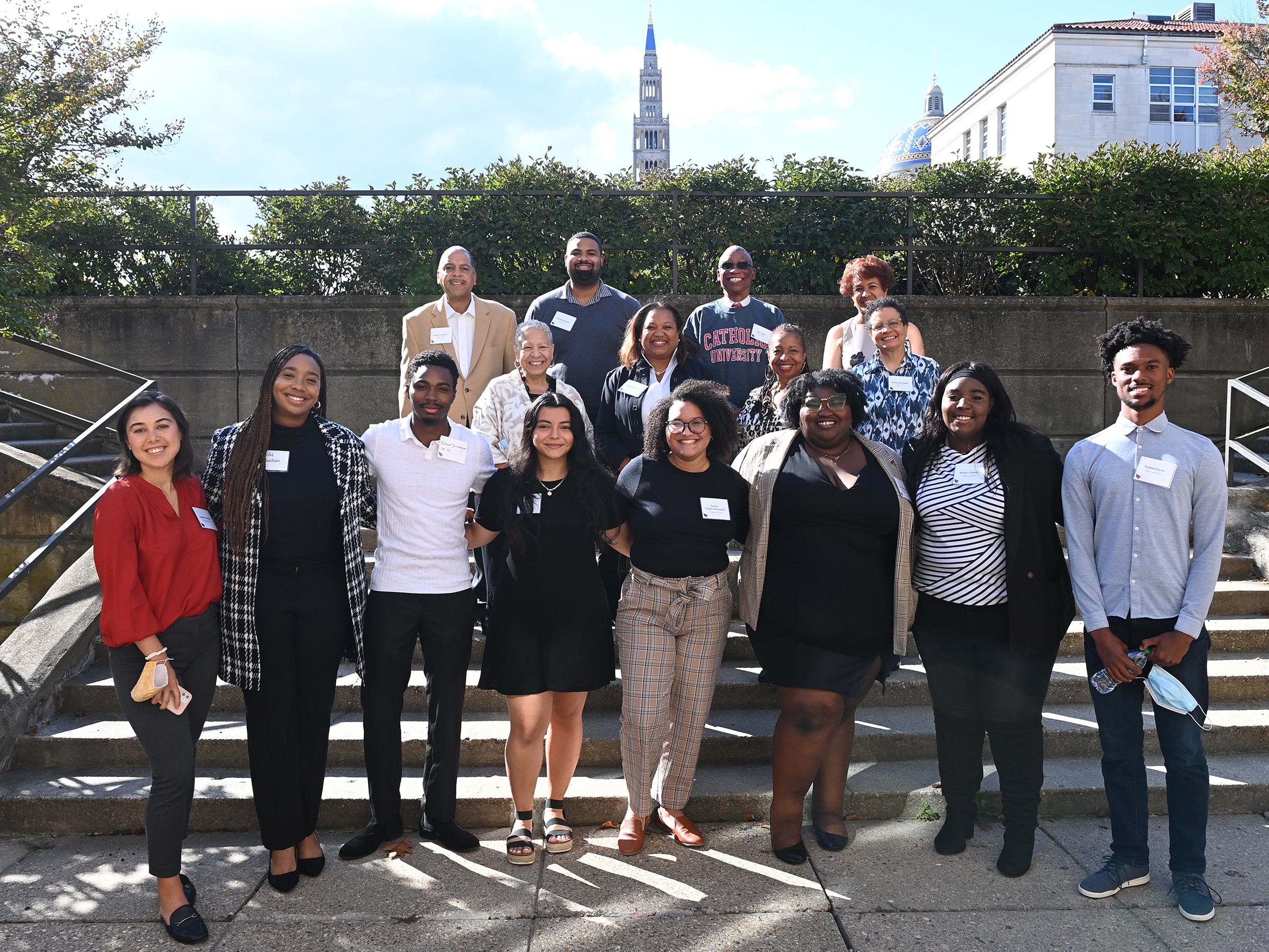 Save the date for Cardinal Weekend 2022
A date has already been set for the next Cardinal Weekend: October 21-23, 2022.
Mark your calendars and plan to join us on campus — especially if you graduated in a year ending in two or seven! You won't want to miss it!
Published on: Monday, October 25, 2021
Tags: Cardinal Weekend 2021, Alumni Association, Cardinal Weekend