The Catholic University of America blossoms with your support
Dear Friends of Catholic University,
During the 2017–2018 fiscal year, we had the best fundraising year in the history of The Catholic University of America – for the third year in a row — with gifts totaling $63.7 million.
This unprecedented level of giving from our students, staff, faculty, friends, and alumni has allowed for the extraordinary achievements showcased here. Please allow me to express my thanks for your generosity.
I'm so very proud of what we have accomplished with the help of our donors. Together, we will make Catholic University the greatest Catholic university in the country.
Thank you.
Sincerely,
John Garvey
President
Our Breakthrough Year
$63.7 million total
surpassing even last year's record
$7.9 million in unrestricted funds
including a record amount for The Fund for Catholic University
Improving our campus, our community, and the world
New Dining Facility
All students will benefit from a modern facility that offers healthy food options.
New and Renovated Athletic Spaces
With renovated fields and a new sports and recreation facility, our students can play and compete at their best.
Pope Francis Scholars Compass Program
In partnership with Catholic Charities, students in the National Catholic School of Social Service help impoverished residents of D.C. and earn a tuition-free master's degree.
Your stories: The impact of major gifts
Catholic University alumni and friends rose to the challenge
The Founders Day Giving Challenge
In 24 hours, you donated $726,702, with most gifts being less than $50.
Reunion Giving Challenge
Reunion classes — class years ending in 2 or 7 — raised a combined $2 million.
Athletics Giving Challenge logo
In the challenge's inaugural year, 350 athletics alumni participated, raising vital funds in support of student-athletes.
Funding for new academic programs
Classical Architecture Concentration
The School of Architecture and Planning is developing a new concentration to give students a deep understanding of classical design, history, and philosophy.
Early Christianity Center/Institute
The School of Theology and Religious Studies will strengthen the University's academic leadership around early Christian faiths with a new center/institute, endowed chair, and endowed graduate stipends.
Data Analytics Program
The School of Engineering is launching a new program that will teach students to turn data into insight.
Make this year even more successful!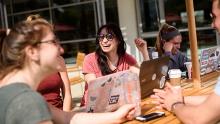 You made our 2017–2018 fiscal year a record-breaking success. Now help us set a new record with our current fiscal year.
With your support, we can continue to improve our campus, our community, and our world. Make a gift online now or choose another giving option.
Thank you!
Published on: Friday, June 21, 2019
Campaign Theme: Faculty Excellence
Tags: Campaign Updates, Report to Donors