Can you solve the mystery of #2?
You can't deny the beauty of Catholic University's 176-acre campus: Gothic architecture, cherry trees exploding with spring blossoms, and inviting green spaces. Over the years, benefactors to the University have donated more than 80 statues.
Whether they commemorate the University's founding, reinforce the strength of Catholic teaching, or serve as an inspiration to students, the figures reinforce our connection to historic traditions and enhance the beautiful spaces across campus.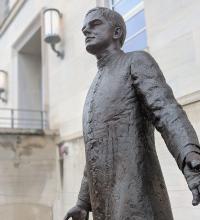 10. French Gothic Madonna and Child
What other D.C. university has a statue from the 1200s in its library? Check out the French gothic Madonna and Child, a gift of Frederick Jambes, that hangs near the fireplace in the May Gallery.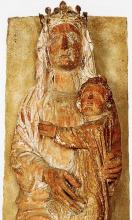 9. "The Kennedy Children, 1929"
"The Kennedy Children, 1929" was given by local art collector Daniel Strishock of Vienna, Va. — his wife, Joan, is an alumna, B.A. 1952 — and is in the Mullen Library. (There are quite a few statues there!). The bronze bust by Nison A. Tregor is located in the hall near the computer lab, and depicts Joseph Kennedy Jr., 14; Rosemary Kennedy, 11; and future president John Kennedy, 12.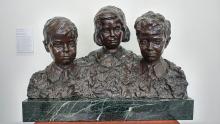 8. Blessed Virgin holding the Christ Child
Also in Mullen is a statue that reflects the diversity of the Catholic faith. A gift of one Mrs. William Sisler (she also gave art to the Metropolitan Museum of Art and the Museum of Modern Art in New York, and the Ringling Museum of Art in Sarasota, Fla.), the statue of the Blessed Virgin holding the Christ Child was carved in the Indochinese style between 1600 and 1699 and is sometimes initially mistaken for a seated Buddha.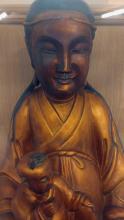 7. St. Thomas Aquinas, Doctor of the Church
What better place for a bust of St. Thomas Aquinas, Doctor of the Church, than a library? A gift of the English, Scottish, and Irish inhabitants of Rome in 1889, it presides over the third-floor stairway of the Mullen Library.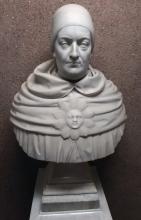 6. World War I Memorial to Catholic University Students
Some students gave all: a memorial to 15 Catholic University students who died fighting in World War I is, unfortunately, no longer on campus. It was removed after being damaged.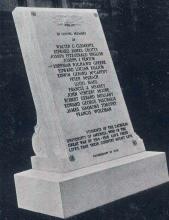 5. "Birth of an Angel"
A dark block of stone outside Curley Hall is called "Birth of an Angel." The piece, a gift of The Magi Foundation in 1994 and created by Maryland artist Sy Gresser in 1991, could inspire students to ponder how angels came into being. Wanders off to find my Catechism…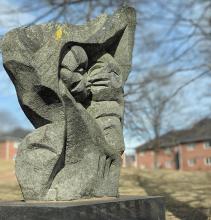 4. Blessed Virgin Mary
In Caldwell Hall, the oldest building on campus, there is a veritable marble host. In Caldwell Chapel you can spot Saints Joseph, Paul, and Thomas Aquinas, while the Blessed Virgin Mary stands just outside, inviting students, faculty, and staff to prayer.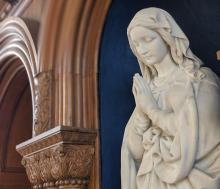 3. Water Buffaloes
To quote Veggie Tales, "everybody's got a water buffalo" — but Catholic University actually has two! Housed in the Archives, the small wooden statues were carved in about 1900 in the Philippines. They were donated by a Miss Trace Romaine.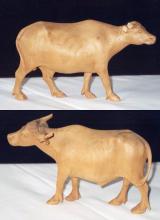 2. "1938/XVI Cairo, Egypt"
If you stop in the International Student and Scholar Services office, one of many student and academic support resources, you might spot a gilded, plaster bust of an African woman. It's inscribed on the back with "1938/XVI Cairo, Egypt," but no one seems to know how it got there.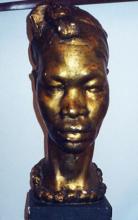 1. Pope Leo XIII
Catholic University founder Pope Leo XIII sits in the foyer of McMahon Hall, home to the School of Arts and Sciences, the largest school in the University. The marble statue, a gift of Joseph F. Loubat, has been part of campus since 1891, and President Teddy Roosevelt once made a trip to see it!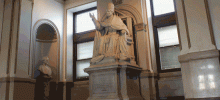 Do you have a favorite statue on campus? Can you reveal the origins of "1938/XVI Cairo, Egypt"? Tell us on Facebook!
To view even more statues — such as the one pictured at the top of this post from benefactors Bjorg and Stephen Ollendorff on the new relationship between Christians and Jews after the Shoah, created by Aharon Bezalel — come visit our beautiful campus. We're happy to have you any time!