Bill and Joanne Conway — the largest donors in Catholic University history due to their tremendous support of nursing scholarships and substantial funding of the new nursing and sciences building currently under construction — are again supporting the eponymous Conway School of Nursing (CSON) through a $10 million gift that will enable the school to increase the number of faculty positions.
"When I came in as the new dean, met with the faculty, University leadership and other critical stakeholders and evaluated our goals for expansion, I saw the need for more faculty to achieve these goals," said Dean Marie Nolan, Ph.D. 1989. "When I spoke with both (former) President Garvey and Mr. Conway, who, together with his wife, Joanne, were nice enough to say 'we can help with this.' Their very generous donation to fund the initiative of new faculty is really transformational for us."
In seeking to reduce the national nursing shortage by supporting the education of new nurses, the Conways also understand the need for more faculty to teach those students. This latest Conway gift will fund salary support, stipends for research and administration, and other start-up costs.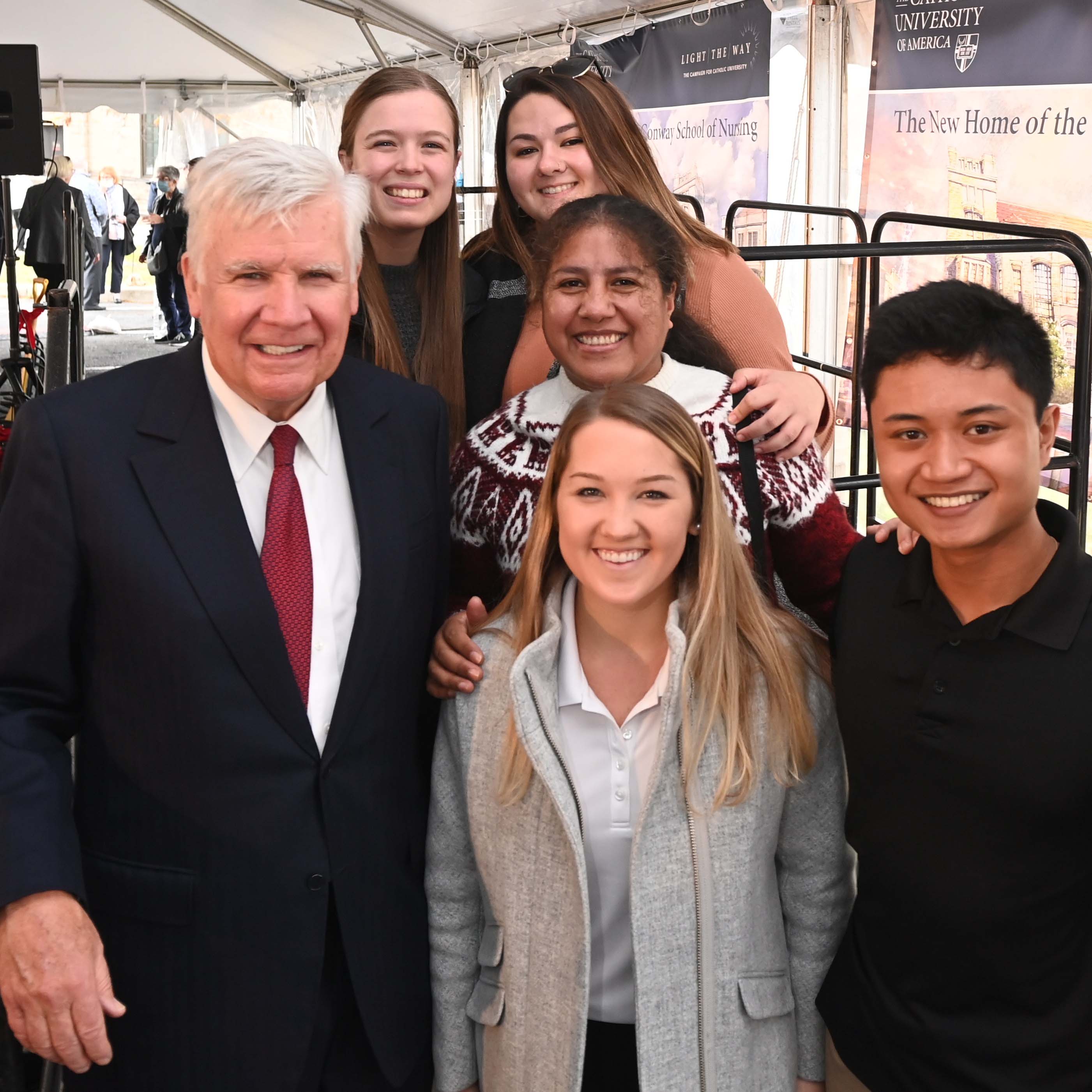 "There are so many young men and women who want to dedicate their lives to serving others through the vocation of nursing. For Catholic University to educate more nurses, they need talented faculty to do so."
— Bill Conway
"My wife and I have been blessed with the resources to be able to further help the University achieve its goal of increasing both enrollment and faculty in the nursing school," Conway continued.  "We are excited to see the nursing school continue to grow."
Currently, there are 21 full-time faculty members in CSON. Additional positions that are needed include clinical faculty to teach at both the baccalaureate and graduate level, research faculty to teach and advance the science of nursing, and an associate dean for administration to support the advancement of our academic programs. Nolan has already secured one new faculty member thanks to the new funding, and a second is in negotiations with the University.
"I received an acceptance letter for our first hire, an associate dean for administration. As a leader on one of the key committees in competency-based education of the American Association of College of Nursing," Nolan said, adding, "she is going to be a tremendous asset to the Conway School of Nursing."
Among the other faculty the Conway gift will enable Nolan to hire is a psychiatric nurse practitioner. She explained that many people of all ages are experiencing mental health problems. Some of these conditions were exacerbated by the pandemic so nurses at all levels need to be well-prepared to assess and treat mental health conditions and to promote positive mental health. Nurses with this expertise are highly sought in healthcare today.
"We want our students to be well prepared in mental health and psychiatric nursing. So, one of the Conway faculty positions is targeting the psychiatric, mental health specialty. And I think I have a very good candidate for this. I think we are in the final phases of that recruitment, and that is going to be an amazing contribution to our faculty."
CSON has about 325 undergraduates currently enrolled, and it's growing very quickly, according to Nolan. Between 2020 and 2024, the B.S.N class size is expected to double.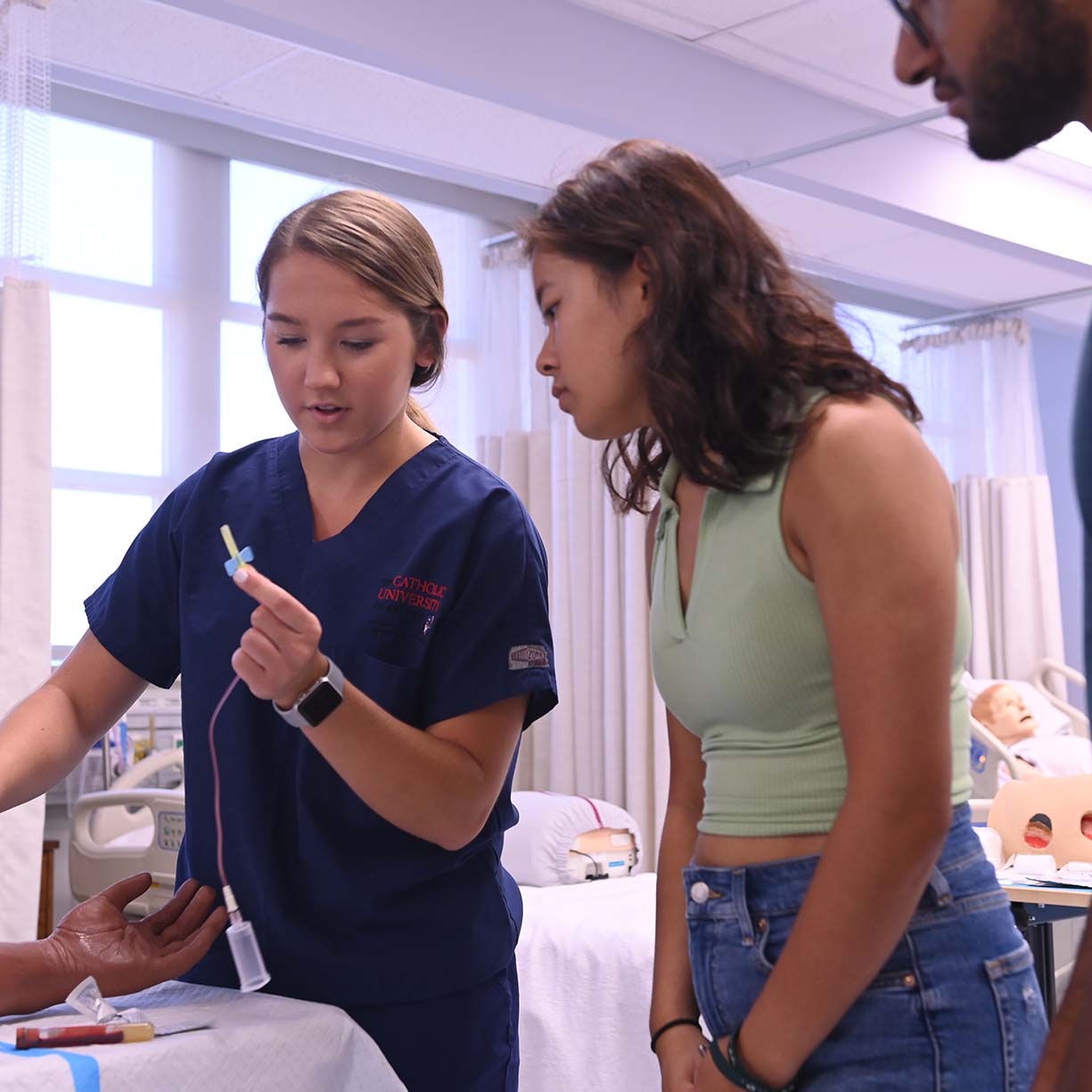 Like many other college and university nursing programs, Nolan said that Catholic University has had to turn away interested applicants due to lack of faculty, as well as a lack of locations where students can be placed for clinicals.
"This is just such a welcome contribution to our school. Bill and Joanne Conway have given so much to us, obviously. The fact that we have this magnificent new building" — set to open in 2024 — "being built is the physical demonstration of their confidence in the next generation of nurses being produced at the Conway School of Nursing."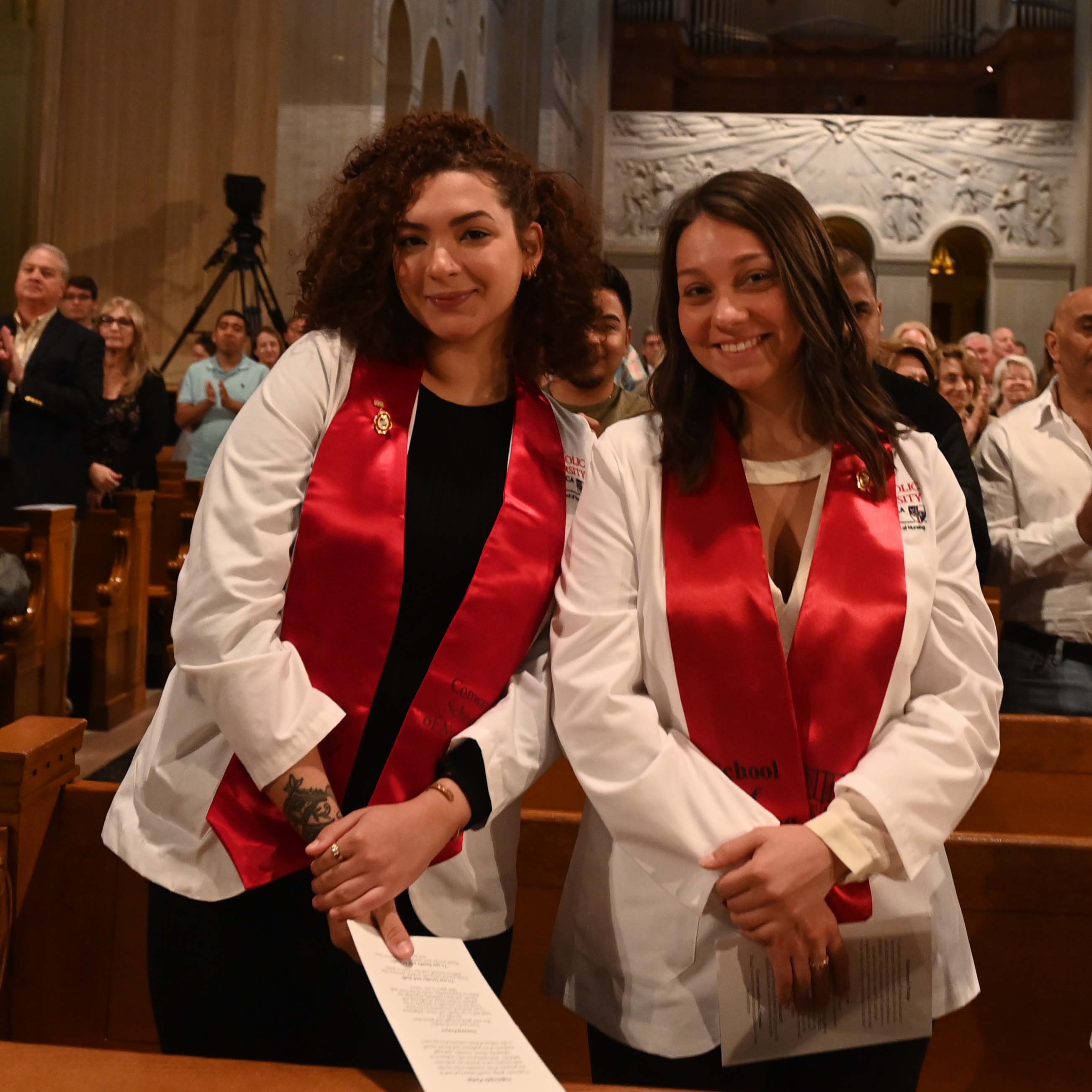 "Graduates are leaders throughout the profession. They are deans, vice presidents for nursing, government leaders and leaders in the armed services."
— Marie Nolan 
 
"I know of no other school of nursing, even among other Catholic universities, that includes as many core courses as we do in philosophy and theology. We are intentionally forming students to be moral leaders in nursing practice, health services administration, nursing science and education."
The school, ranked fifth nationwide for its online master's program in nursing by U.S. News & World Report, was also ranked 13th in the nation for its online master's program for family nurse practitioners, according to results released in late January.
"Our faculty members are amazing. They're experienced clinicians who are grounded in faith, and are very student-focused," Nolan said. "They recognize that our students are individuals with mind, body, and spirit and we seek to know them as persons so that we can nurture them and help them to develop into the best possible nurses–the best possible persons that they can be. This is what makes the graduates of the Conway School of Nursing different. Even beyond empathy, they exhibit a sense of solidarity with the patients, families and communities that they serve. It is an honor for our faculty to be part of this transformation."