In November 2020, the 20-foot-long, 3.5-ton sculpture Angels Unawares began a national tour. Through this pilgrimage, people across the country had the opportunity to share in its message of welcome and hope.
The sculpture — a gift to the University — is the second casting of a piece commissioned by Pope Francis and created by Canadian artist Timothy Schmalz. The original is located in St. Peter's Square.
In April 2022, Angels Unawares will be permanently installed in a beautiful new plaza between Fr. O'Connell Hall and Gibbons Hall on the campus of The Catholic University of America.
View images and videos from each city
Chicago (September 2021)
"We welcome the Angels Unawares sculpture on Loyola University's Lake Shore Drive Campus, a reminder of the Church's teachings supporting migrants and refugees. May we respond generously to their needs."

—Blase Cardinal Cupich, archbishop of Chicago
Minneapolis (August 2021)

On Friday, August 13, we celebrated with members of the CatholicU community in the Minneapolis region. Read more.
"Look with compassion on refugees and exiles, on segregated persons and unlost children, restore them, we pray, to a homeland, and give us a kind heart for the needy and for strangers."

—Donald J. Hying, bishop of Madison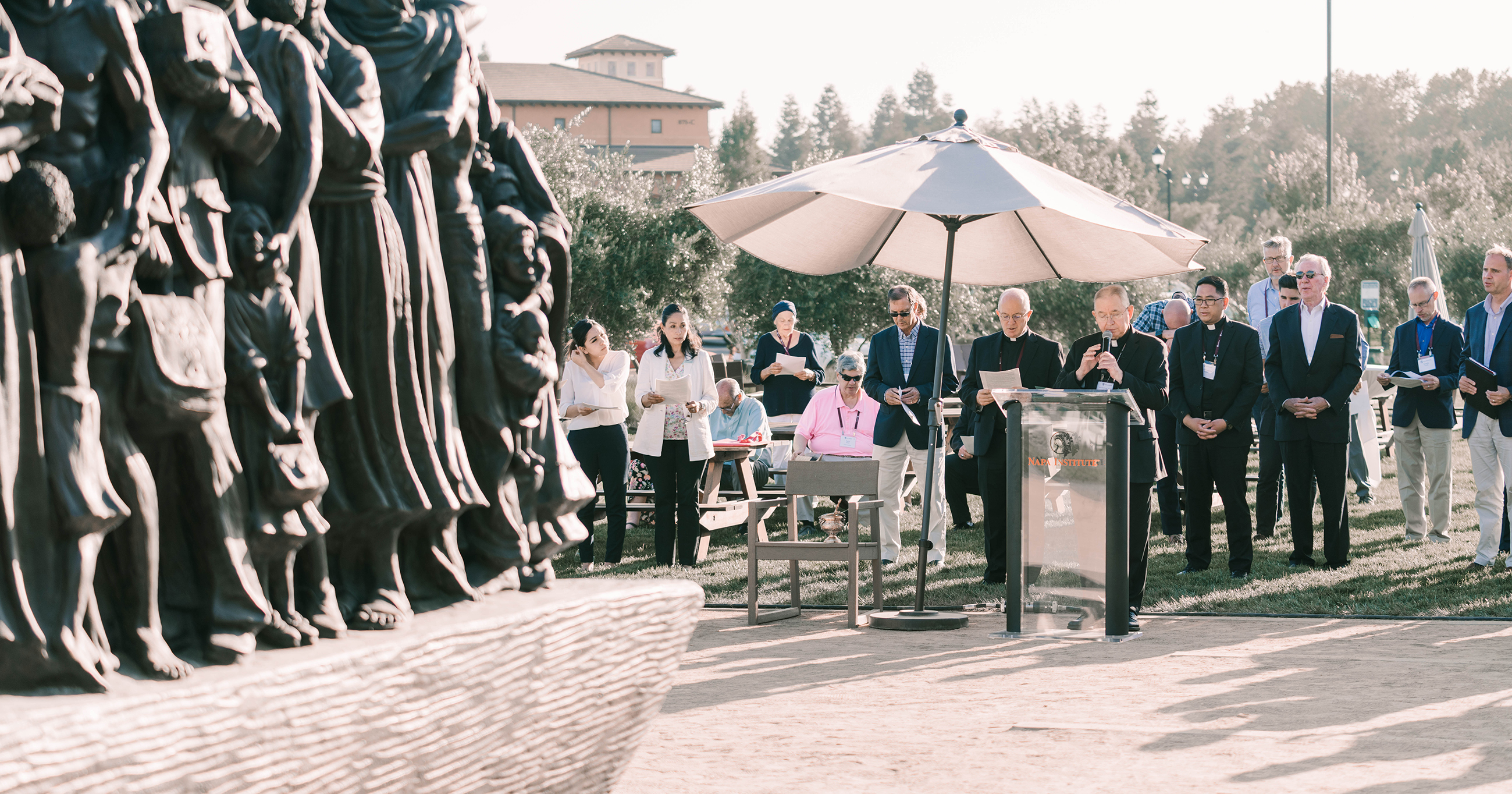 "The church redoubles its commitment to the Justice for Immigrants initiative and to recognizing the human dignity and rights of immigrants and refugees and the promotion of legalization and legislative reform."

—José H. Gomez, archbishop of Los Angeles, and Mario E. Dorsonville, auxiliary bishop of Washington
San Antonio (June and July 2021)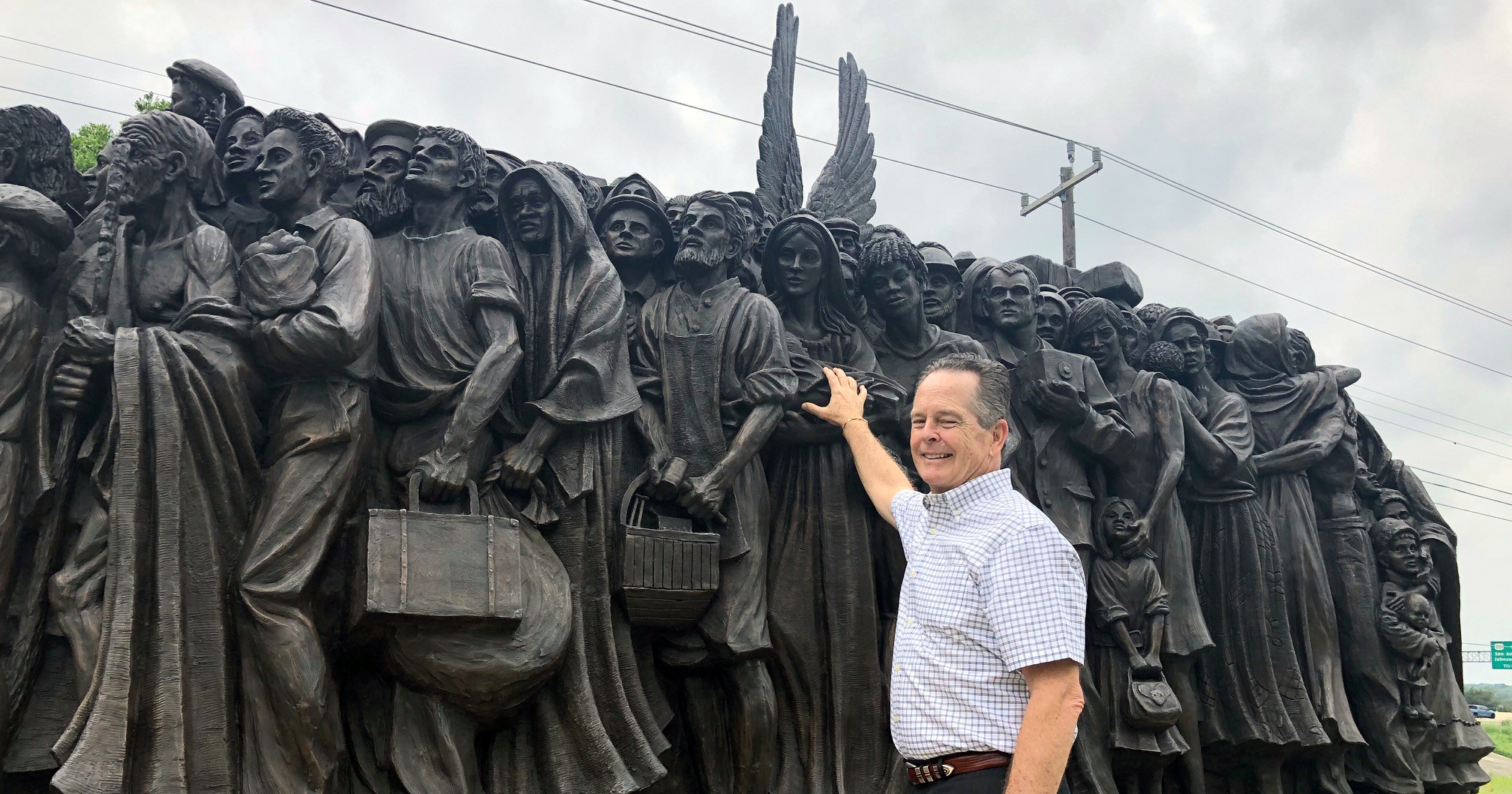 "San Antonio was built by people from different backgrounds and those fleeing violence and persecution for freedom and peace. We have been blessed because we have heeded Christ's call to welcome the stranger. Our faith reminds us that we are one human family."

—Gustavo García-Siller, archbishop of San Antonio
New Orleans (April and May 2021)
"We are related to them. It's not just a sculpture of people, but we can literally look at that and see, 'that's part of my history in that boat.'"

—Gregory Aymond, archbishop of New Orleans
Miami (February and March 2021)
"The history of these United States – and of our South Florida community – is also the history of migration. It is your history; it is my history; it is our history. And as this work of art depicts so eloquently: We all are in the same boat."

—Thomas Wenski, archbishop of Miami
"At the sculpture's installation in Rome, Pope Frances said he wanted the sculpture 'to remind everyone of the evangelical challenge of hospitality.' We hope to do the same."

—Carolyn Johnson, Georgia chapter co-leader, Georgia Patrons of the Arts in the Vatican Museums
New York City (December 2020)
"It is a symbol of what we want to be, and what we have been in the past, and what the future holds for us if we hold to our values as Americans. This has truly been a land where everyone has a stake."

—Nicholas DiMarzio, bishop of Brooklyn
"You see people constantly walking around and taking pictures of it, trying to identify different people. The 140 figures… the Holy Family, the Rabbi, the slave… there is a real sense of people on the move, and as an artwork, it's getting a great reception."

— Father James Keenan, the Canisius Professor of theology at Boston College
Washington, D.C. (October 2020)
"Opening ourselves to others does not lead to impoverishment, but rather enrichment, because it enables us to be more human: to recognize ourselves as participants in a greater collectivity and to understand our lives as a gift for others: to see as the goal, not our own interests, but rather the good of humanity."

—Brayan Hernandez, Class of 2022, Catholic University
Read our stories about "Angels Unawares"