On Sunday, June 20, we held our first event in the Philadelphia region since the start of the pandemic.
In the morning, members of our Catholic University family celebrated Mass with His Excellency, the Most Reverend Nelson J. Perez, at the Cathedral Basilica of Saints Peter and Paul. Afterward, they joined him for a group photo on the steps of the Cathedral Basilica.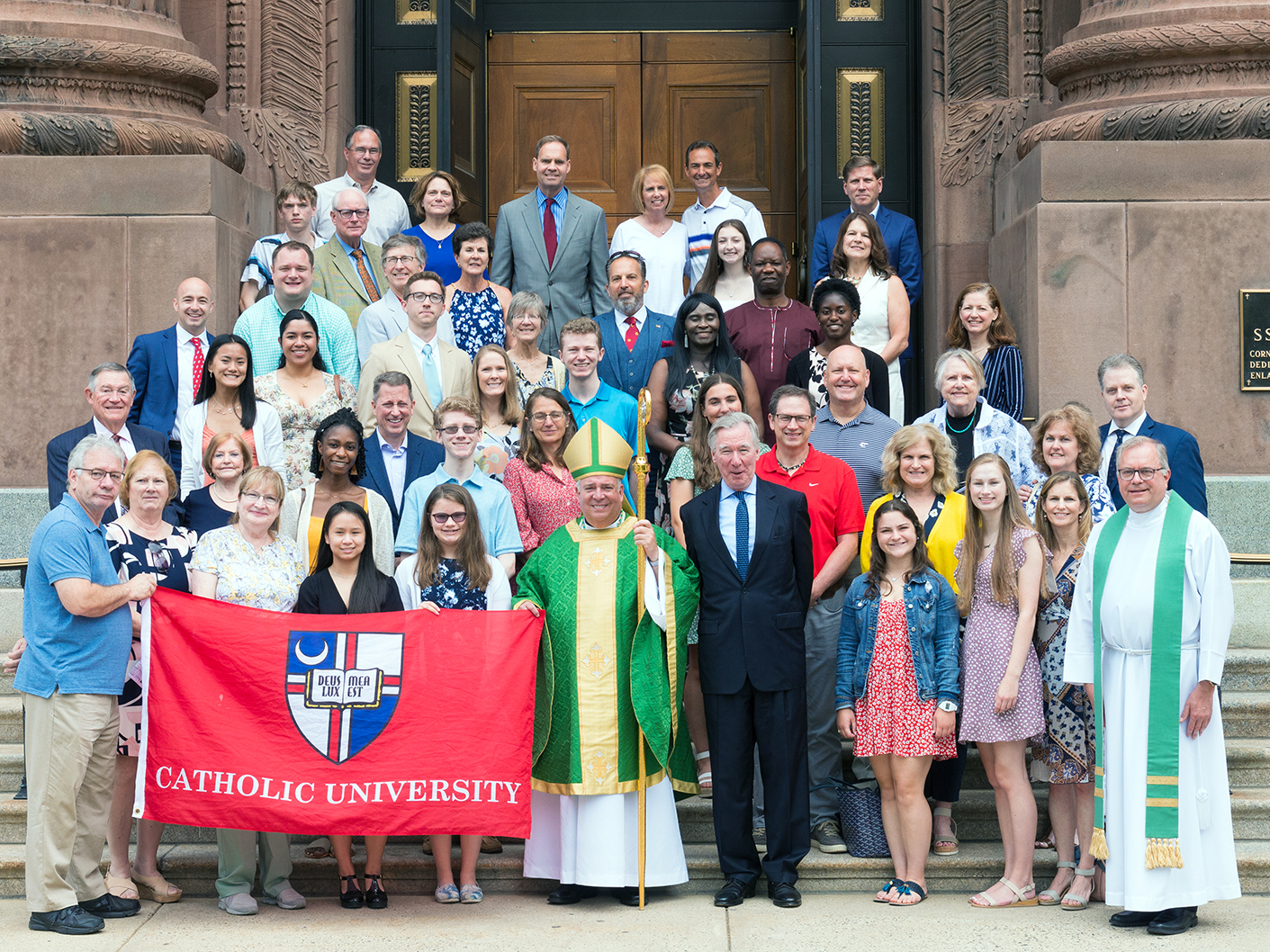 Then, we moved next door to the Logan Hotel for brunch. We heard from two esteemed alumni with strong ties to the Philadelphia area — Schola Eburuoh, B.S.Arch 2021, and Thomas W. Smith, M.A. 1988, dean of the School of Arts and Sciences, both joined by their families — as well as University President John Garvey, who talked about exciting developments at Catholic University.
Eburuoh shared her journey from Delaware County, Pa., to Washington, D.C., and her plans for the summer — she's completing a summer architecture fellowship — as she prepares for graduate school at Harvard University. During commencement in May, Ms. Eburuoh received the President's Award, the highest University honor for a graduating senior.
"I'd describe my time at Catholic as four years of joy and many, many blessings," she said, recounting that she worked as a resident assistant for three years, led Habitat for Humanity service trips, and spent most of her time in Campus Ministry and the Crough Center, the architecture building. "All of these experiences allowed me to really get to know and thrive in our campus community, and honestly proved that CatholicU Cardinals are top-notch and caring people."
Dean Smith, an alumnus of the Department of Politics who spent 12 years teaching at Villanova University before returning to Catholic University last spring, spoke about the "Art of Adulting."
Smith has made "adulting" programming a signature initiative for the School of Arts and Sciences and, with a colleague, is writing a book about the process of becoming an adult, of developing a satisfying, balanced life, and of helping young men and women cross the threshold from teens to adulthood.  
As it was Father's Day, President Garvey highlighted the year of St. Joseph and acknowledged all the fathers in the room. He also highlighted challenges the University experienced as a result of the pandemic and the ways it adapted, noted it will fully reopen in the fall, and touched on expansion through the Tucson program, Alexandria campus, and new buildings currently under construction.
"Through it all, we have been grateful for the support of our alumni and friends," he said.
We thank everyone who joined us in person on Father's Day. It was a pleasure to see you again!