John Cahill, B.A. 1989, has a family history that is deeply rooted in Catholic University and the surrounding Brookland neighborhood. Now, he is honoring that legacy through the Leo F. Stock Impact Scholarship, named for his grandfather, a fellow Cardinal.
Although John's parents met at Georgetown University, his mother's family has played a part in the history of Washington, D.C., for several generations. One of their distant relatives, Col. Jehiel Brooks, built the Brooks Mansion in Northeast D.C. for his bride, Ann Margaret Queen. The estate was subdivided after the colonel's death, and that land became the neighborhood known today as Brookland.
John's grandfather, Leo F. Stock Jr., B.A. 1923, also has a connection to the Brookland neighborhood. After receiving his engineering degree from Catholic University, Leo worked for a firm that was involved with building the Brookland Metro station. In fact, it was Leo who successfully advocated for the station to be located at Catholic University, a decision that has benefitted generations of Cardinals since it opened in 1978.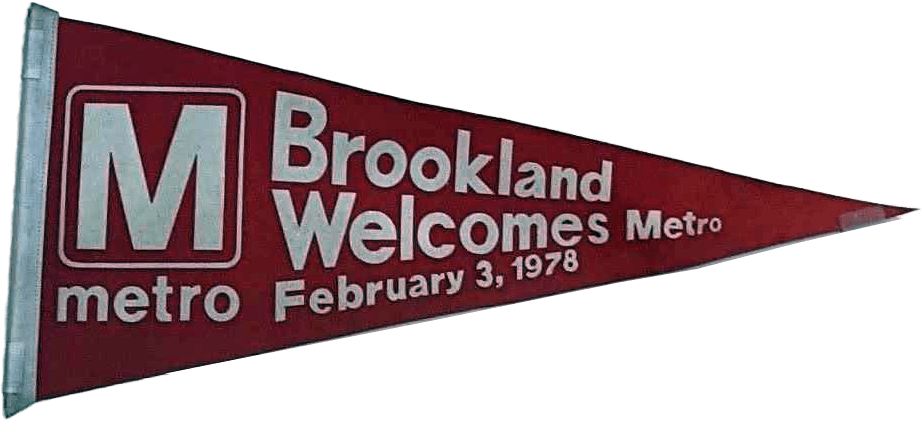 It was Leo F. Stock who successfully advocated for a metro station to be located at Catholic University.
"I think he lobbied very hard," John said. "And the reason he did is, one, he went to Catholic University, and two, because of the Brooks family, who are our distant relatives as well."
Not only did John's grandfather attend Catholic University, his great-grandfather — also named Leo F. Stock — earned a doctoral degree here in 1920 and taught in the University's history department for most of his career. Many other members of his family chose to attend Catholic University as well, including his great uncle, John Joseph "Jack" Hartke Jr., B.S.C.E. 1927, who was the captain of the football team, and his aunt, Christine Stock Simpson, B.S.N. 1958, who went to the School of Nursing and still practices at the age of 87.
This strong Catholic University family legacy made John's college decision an easy one — despite the ties his father's family had to Georgetown.
"To me, it was a no brainer — all of these people were mentors, close family members. In fact, I only looked at one college: Catholic," John said. "I remember coming here with Leo F. Stock Jr. and walking around campus. He said, 'I promise you're going to love coming here. You'll get a great education.'"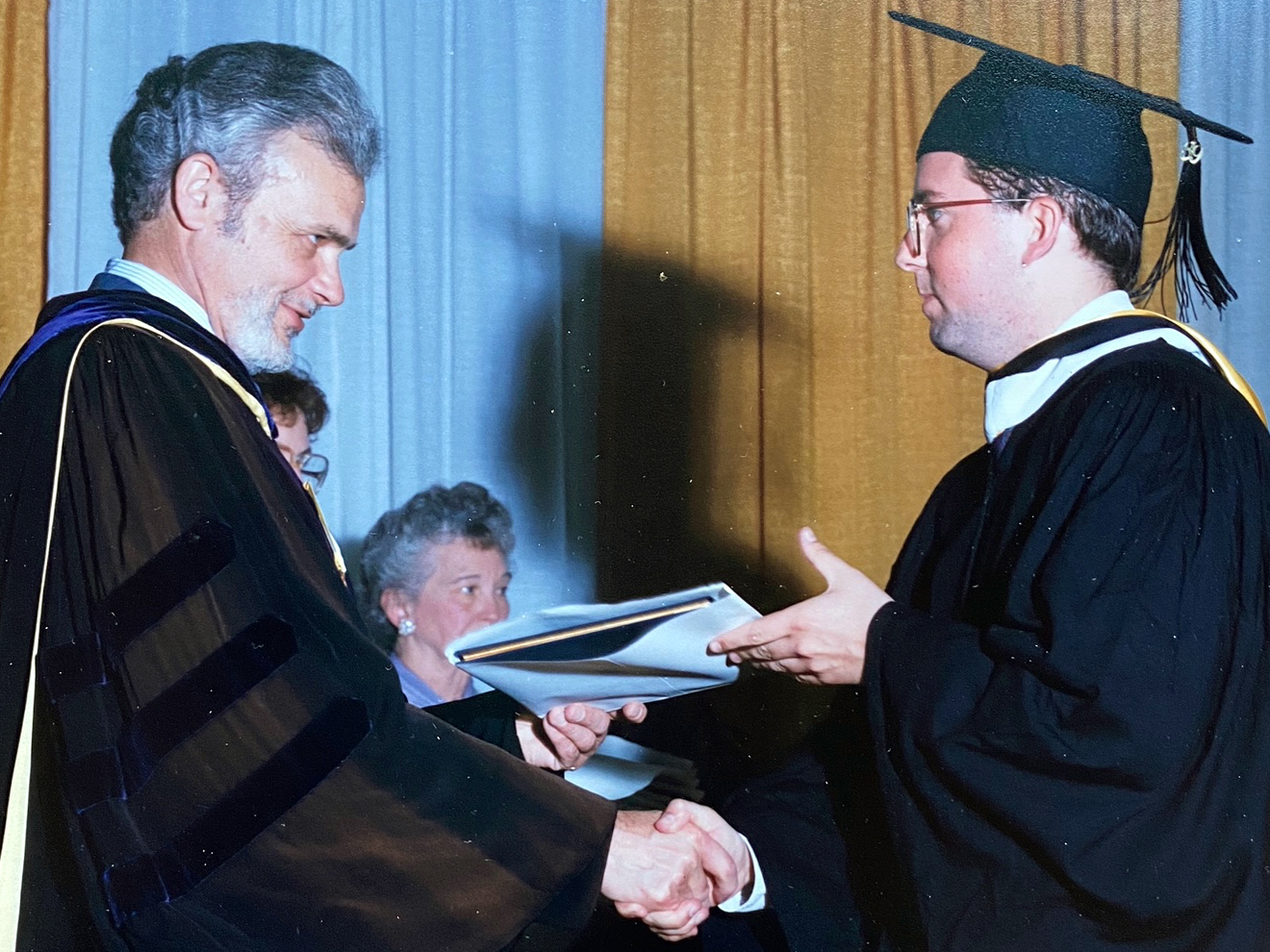 "I remember coming here with Leo F. Stock Jr. and walking around campus. He said, 'I promise you're going to love coming here. You'll get a great education.'"

— John Cahill, B.A. 1989
After earning his undergraduate degree in philosophy, John spent a year working for The Swatch Group before deciding that a career in business wasn't the right path for him. He went on to attend the Mount Sinai School of Medicine and has since spent his career caring for the health and wellbeing of others. He is currently a physician with the Mount Sinai Health System specializing in travel medicine and infectious disease, as well as an assistant professor of medicine and infectious diseases for the Icahn School of Medicine at Mount Sinai.
"I wanted to pursue a job that you could do your whole life and you'd always be able to say you're making an impact on people's lives, a job that would be different every day," John said. "Every morning, I wake up and I have no idea what type of cases or medical problems I'll face. It's a constant challenge, and every day is different."
John still uses the lessons he learned as a student in the School of Philosophy in his career as a physician. He said the curriculum's focus on logic was a huge asset in his medical studies, and the emphasis on the human good and the pursuit of wisdom, with the underlying foundation of Catholic faith, has served him well as a healer.
"Interestingly, I think philosophy is perhaps the best major one can have if you're going to study medicine," John said. "It grounded me to have a certain amount of compassion toward people, and it also gave me an understanding of people and how they might think differently."
John met his wife, Rachel, more than 20 years ago through mutual friends from the CatholicU community. Her family also has deep ties to the University, and that shared history recently led them to consider how they could make more of an impact at the University and honor those family legacies.
"I'm excited to be able to give something back now at this point in my life, and I look forward to continuing my relationship with the University for years to come."

— John Cahill, B.A. 1989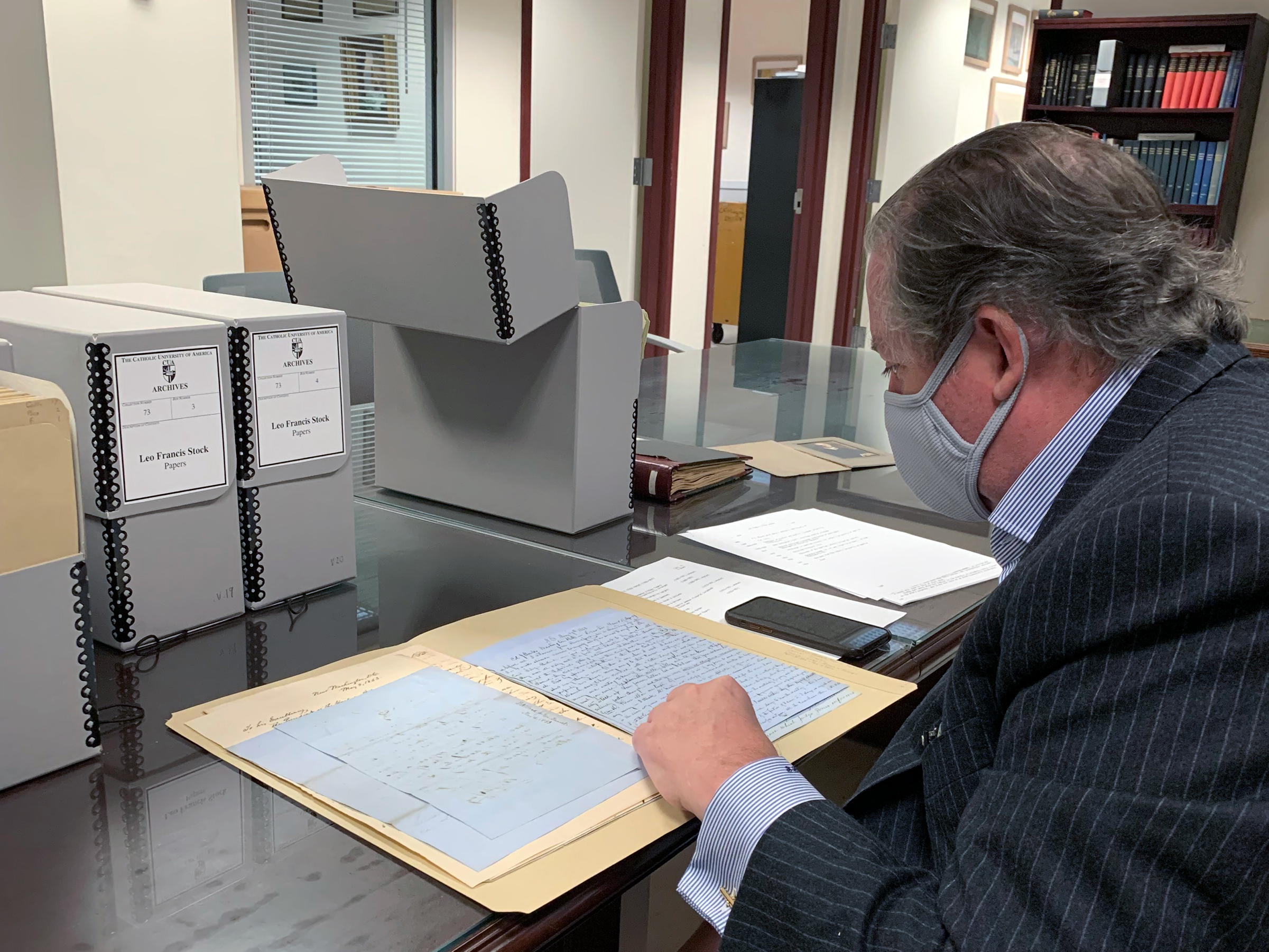 They began by renewing their leadership annual support for The Fund for Catholic University, which provides critical operational support, allowing the University to respond to urgent needs or opportunities throughout a given year. As members of the 1887 Society, ​​their gifts directly enhance the student experience and drive the mission of Catholic University forward.
John and Rachel then began to consider other ways to make a difference for Catholic University and its students. They ultimately decided to create the Leo F. Stock Impact Scholarship, which will provide three scholarships for incoming undergraduate students, particularly those who are active in their community through service and volunteerism. Impact scholarships are spread out across a student's four years of study, and they are often the deciding factor in a student's ability to attend Catholic University. The first scholarship will be awarded to an incoming student from the Class of 2026 this fall.
"We chose the scholarship because we wanted to allow other students the opportunity to attend Catholic University who might not otherwise have the financial means to attend," John said. "I'm hoping that they'll come through, get educated at. Catholic, and go on to make the world a better place."
As a New York resident, John has spent more time away from the University than he's liked over the years. However, he looks forward to continuing his family's legacy through philanthropy and reconnecting with his alma mater and fellow alumni.
"My heart was always at Catholic University, but there were a number of years where I just didn't have the time to get down to D.C. or attend events. One positive thing about the pandemic is that it allowed me to slow down my life to a certain degree, and to think about reconnecting with certain aspects of my life that I always enjoyed," John said. "I'm excited to be able to give something back now at this point in my life, and I look forward to continuing my relationship with the University for years to come."
Published on: Wednesday, July 20, 2022
Campaign Theme: Student Success
Tags: Scholarships, Impact Scholarship, Brookland, Cahill, Stock, 1887 Society