Piano Performance, Marie F. Connor Scholarship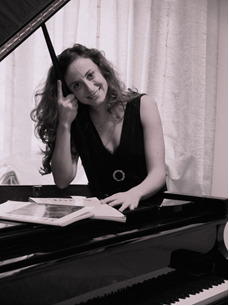 Putting my gratitude for the scholarship into words is nearly impossible. Quite simply, I would not have been able to leave Italy to study piano at The Catholic University of America without the scholarship I received.
I hold a Master of Music degree in piano performance and numerous certificates, and I am currently studying for my doctorate in piano pedagogy. I knew I wanted to be able to teach at the university level, so it was important to me to find the right next step. I looked at programs in Switzerland, Germany, Holland, and the like; the United States was not on my radar at all.
Then, in the course of participating in master classes in Italy, I had the opportunity to meet and work with Dr. Nikita Fitenko. I found his method of playing and teaching piano both fascinating and exciting, and I felt in my heart that he would be the ideal professor for me as I continued to grow in my capacities as an artist and scholar.
While I had been studying at my conservatory in Italy, I had also been training with a Russian professor, so my technique had become Russian. Dr. Fitenko had such amazing technique, and I was so comfortable with him, so I auditioned for the program in February. Not only did I receive the "high recommendation" score, I was offered the scholarship in May. So, here I am!
My past professors are internationally known, and I have performed in numerous countries for many prestigious musical societies and competed successfully in international solo and chamber music competitions. I have competed in several international solo and chamber music competitions, most recently winning Third Prize in the First International Competition in Italy and Grand Prize at the IBLA International Competition.
Catholic University is absolutely the right place for me to be. My professors are amazing, I am expanding my repertoire and my knowledge of teaching methods, and I love the campus; moreover, the cultural level is high in this city, with concerts and cultural events every day. I am so grateful for this opportunity. Without the scholarship, I might have found another program in Europe, but I know I would not have learned as much as I am learning here.