This year, the National Catholic School of Social Service (NCSSS) celebrates a milestone — the 100th anniversary of its founding. Over the course of the last century, NCSSS has endeavored to serve others by preserving human dignity, seeking justice for all people by meeting them where they are, and preparing students to change the world.
From an independent school to part of Catholic University
From humble beginnings, founded as the independent National Service School for Women in 1918, the school opened with only 38 students. It changed its name in 1925 to the National Catholic School of Social Service. While NCSSS became associated with Catholic University in 1930, it wasn't until 1947 that NCSSS formally became part of the University.
Largest on-campus and graduate programs
The school now has the largest on-campus and graduate programs, with hundreds enrolled in bachelor's, master's, doctoral programs, or the joint M.S.W. and J.D. program.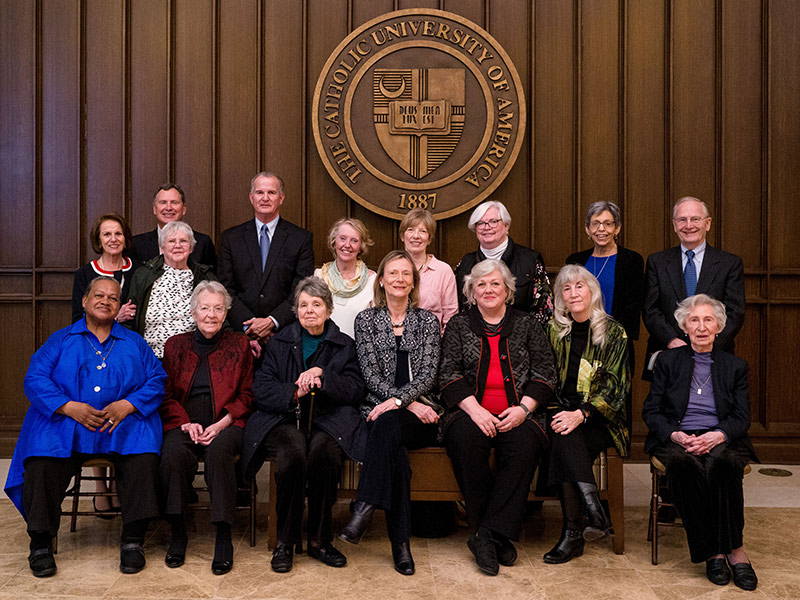 "From counseling the survivors of sexual abuse, to offering diversity training, or giving assistance to the underserved residents in some of the District's poorest wards, for the last 100 years our faculty, students, and alumni have done and are continuing to do important work," says Interim Dean Marie Raber, who has been with the school for 30 years. "They offer comfort and support, healing and hope to people from all walks of life, and truly embody the mission of Catholic University and NCSSS — to serve and empower the vulnerable, oppressed, and impoverished people and communities."
Centennial celebration in support of Centennial Scholarships
To commemorate this singular anniversary, NCSSS and Catholic University recently invited all of the school's alumni, past deans, faculty, and friends to join in an evening of celebration.
On Wednesday, March 20, the community gathered for the annual St. Louise de Marillac Mass at St. Vincent de Paul Chapel, followed by an evening program of cocktails and dinner in Heritage Hall. The event included recognition of faculty and saluted the philanthropic support of generous friends and alumni of the school, including partnerships with Catholic Charities of the Archdiocese of Washington (CCADW) and other organizations.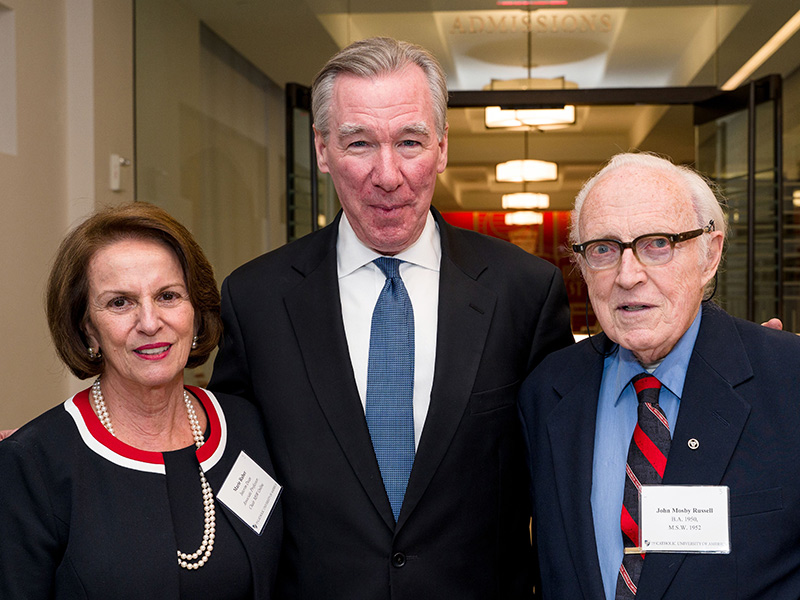 NCSSS alumni John Mosby Russell, B.A. 1950, M.S.W 1952, was also singled out during the celebration. In addition to several other scholarships he has funded, Russell recently made a generous $100,000 commitment to establish the Centennial Scholarship for graduate students at NCSSS, a gift amount that will endow the fund in perpetuity. Centennial Scholars will be students who seek to lead efforts to address the complex challenges facing local, national, and global communities in the 21st century.
During the dinner, an additional $58,000 was raised to support Centennial Scholarships, bringing the current total for the scholarship fund to $158,000.
All net proceeds from the NCSSS 100th Anniversary Celebration also benefited Centennial Scholarships. Make a gift in support of the Centennial Scholarship fund by calling 202-319-6910 during normal business hours.