"Our story is not unique. There are other of our classmates who have similar stories. There were a lot of Vietnamese refugee students at the University when we were there, so we are not unique — except maybe for meeting our spouse at 5 years old."
Escaping Vietnam: Arriving in the U.S. as refugees
Yes, Khanh Le, B.E.E. 1982, and Lynne Tran, B.E.E. 1983 — CatholicU Sweethearts who married in 1986 — first met when they were just children… but only one of them remembers that meeting.
Lynne left Vietnam in 1975 on the last day before the city of Saigon fell. The majority of Khanh's family stayed and didn't escape until 1977, largely because the men in his family, officers in the South Vietnamese Armed Forces, were arrested and sent to concentration camps. They had to bribe officials to be released but then had to flee as they were about to be re-captured.
"Conditions in the camps were horrible," Khanh recalled. "You've seen the movie 'The Bridge on the River Kwai?' It was like that," he said.
After a multi-country trek, one of Khanh's brothers, who arrived in the United States earlier, sponsored the family's entrance to the U.S. He arrived October 10, 1979.
Lynne and her family had settled in Arlington, Va., while Khanh lived in Rockville, Md.
Surviving on bread, butter, and young love
Their Catholic University Sweetheart story truly began when Khanh spotted Lynne on campus.
"When I first saw my wife, she was a work-study student," he said, recalling that she was manning a desk in Pangborn Hall. "But I never met her until junior year, when we took some classes together.
"One day, I was walking by Pangborn. There was a library on the second floor and I heard her call my name from the window. It turned out she needed help with her homework," Khanh recalled.
Lynne vividly remembered, "He was the thinnest and poorest-looking guy in class."
And that, as they say, was that. Both Lynne and Khanh were intent on school, Lynne had her work-study job, and Khanh worked full time to pay for tuition.
"We were mostly focused on study. We had no time for anything else," he said, adding he completed his B.E.E. as quickly as possible because he couldn't afford to spend all four years in college.
The couple did make time for dates in The Loft, a combination convenience store/coffee shop/snack bar that was once situated in what is now Fr. O'Connell Hall where the Admissions office is now located.
"It was a little cafeteria area, and our favorite place on campus. Mostly we ate bread and butter on our dates, because we were so poor."

— Khanh Le, B.E.E. 1982
A chance encounter 25 years earlier
But their history together, and the history of their two families, goes back a lot farther than their 1980 meeting.
"It probably began 25 years before that," Khanh said. "My father was in the Engineering Corps of the South Vietnamese Armed Forces. He was a civil engineer and went around the country building military bases. My father-in-law was his electrical contractor, and they'd known each other since about the 1950s.
"The last time my father and father-in-law met was in 1965. In 1980, when Lynne and I met, I told my parents who her father was and they said, 'Oh, we know him.' I think I actually saw Lynne when she was 5 or 6, when her family had come over to our house, but she doesn't remember."

— Khanh Le, B.E.E. 1982
Pursuing successful careers
Following graduation, Khanh received a scholarship to attend Stanford University's M.S.E.E. program. He worked for several companies in Silicon Valley and started five of his own. Now, he is an investor in start-ups that are largely involved in artificial intelligence.
Lynne worked for 16 years in the aerospace industry, especially Ford Aerospace, spending some time at the Goddard Space Center, where she worked on the Space Shuttle program. She later worked at KLA-Tencor and XMR in the Bay Area. In 2000, she decided to pursue a career in real estate where the flexible work schedule would let her spend more time with her son Michael. She discovered real estate was her true calling and has built a remarkably successful business.
A return to where their love story began… now with children
The couple has two children, Eileen and Michael. On July 10, 2014, they brought their children to visit Catholic University on their 15th anniversary.
"We wanted to show them how we started out and wanted to make sure they get the idea of how we worked hard and managed tough situations to become who we are today. We don't want them to take things for granted. We want them to understand the difficulty we went through."

— Khanh Le, B.E.E. 1982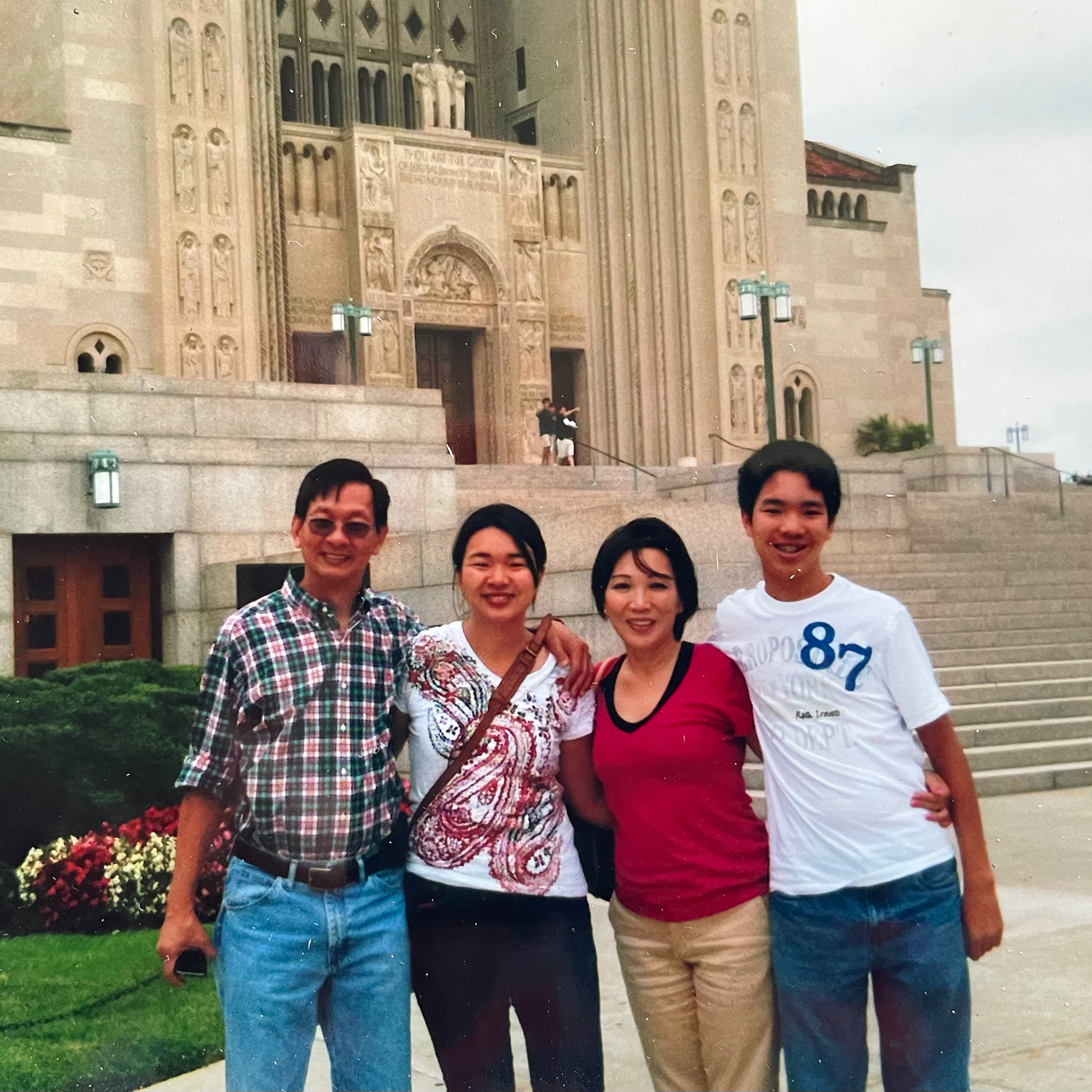 Their daughter is thinking of applying to law school at Catholic University. She has completed her M.B.A. from the UC Berkeley Haas School. Their son is applying to medical school after completing his B.A. at Case Western University. He is now doing clinical drug research at UC San Francisco School of Medicine.
Khanh and Lynne have returned to campus several times to visit and pray at the Shrine, most recently in 2018. They still have family in the area and are thinking of buying property in Arlington.
"We miss the East Coast weather and having four seasons," Lynne said.
They recently decided to support the Catholic University through a bequest as a reflection of their gratitude for all the University gave them. The bequest will create an endowed scholarship for the School of Engineering to honor their legacy and provide future students with the opportunity to receive an education at Catholic University.
"We appreciate what the school has done for us. For the education, and for the scholarship the school gave to Lynne. The education was excellent, and it really prepared us well for the job market," Khanh said.