Today, the Church celebrates the feast day of Saint John Paul II. He has left the Church with a rich heritage, from the theological wisdom in his extensive writings to his work for the human person against the dehumanizing forces of communism and the culture of death. Through this heritage, John Paul is still present with the Church as a spiritual father, walking with us through our many trials and strengthening us to respond with faith, hope, and love.
This fatherly heritage marks the daily life on campus here at Catholic University. It's common to see students walking with chaplains, other clergy, faculty, staff, etc. As John Paul walked the Church through the challenges of the end of the 20th century, so many spiritual fathers and mothers continue this walk with students here to help them through their own challenges.
Earlier this week, a first-year student came to see me about a recent loss in her family. Her sorrow was still raw, and she felt the insecurity that comes from the fragility of life. Together, we walked to the Saint John Paul II National Shrine, right across the street from campus. After she poured out her heart, we simply sat in the shrine's chapel and then went to the museum for John Paul. In that moment, when she was feeling alone and exposed, John Paul's fatherly love was palpable, assuring both of us that we don't walk alone and pointing us to the very fatherhood of God Himself.
John Paul's teaching helps us better understand this fatherly love of God. In his homily on Sunday July 28, 2002, at World Youth Day in Toronto, John Paul declared: "We are not the sum of our weaknesses and failures; we are the sum of the Father's love for us and our real capacity to become the image of his Son."
This single sentence shines like an unconquerable light into the darkness that threatens to overcome us: how often we define ourselves by our own weakness and failures; how often we do the same to others. With fatherly assurance and calm, John Paul points to the Father's love as what truly defines us. And so much of our ministry on campus entails hearing students bring their weaknesses and failures to the light, and then assuring them that the Father still loves them and that they are Christbearers in this world.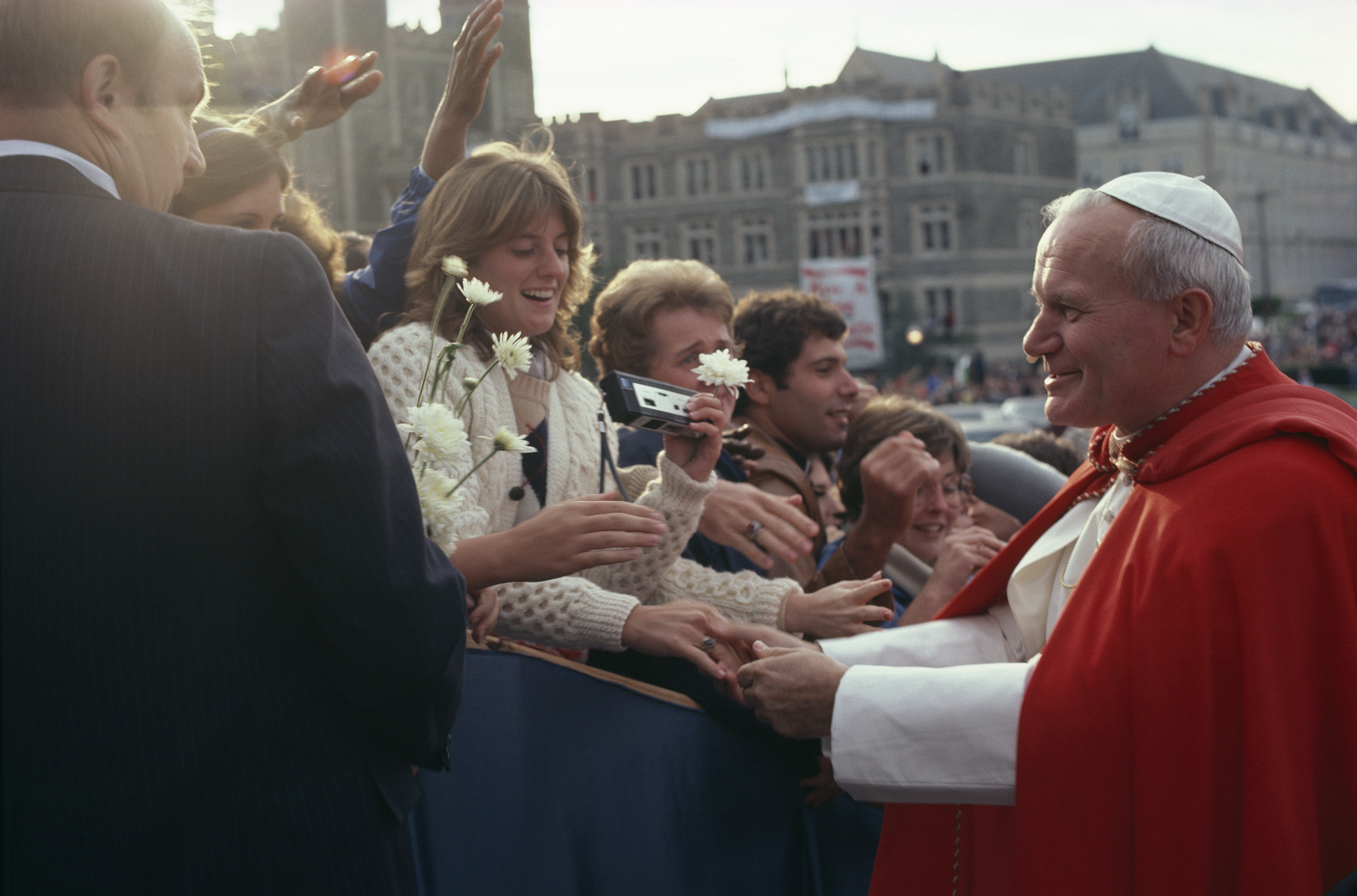 In a way, this teaching is simple, but we can easily doubt it. John Paul points to original sin as being fundamentally a temptation to doubt God's fatherly love. Near the very end of Crossing the Threshold of Hope, John Paul wrote, adding emphasis to the first line:
"Original sin attempts, then, to abolish fatherhood, destroying its rays which permeate the created world, placing in doubt the truth about God who is Love and leaving man only with a sense of the master-slave relationship. As a result, the Lord appears jealous of His power over the world and over man; and consequently, man feels goaded to do battle against God."
This tells us that if we try to welcome the Father's love, we will face countless temptations from the psychological masterminds of hell. We can easily fall for the lie that sees life in terms of power dynamics and struggles for control, rather than a communion of love and sacrifice. If the Father's love does not have faithful prophets, we will act like orphans.
This month, as we thank the Lord for the gift of Saint John Paul II, we pray for his fatherly care to still direct the Church along the path of wisdom and love. We pray for the Lord to raise up many spiritual fathers and mothers, so that many would come to know the Father and find rest in his love.
Published on: Friday, October 21, 2022
Tags: Holy Day, Holy Days, Campus Ministry